Healthy Hair, Skin, & Nails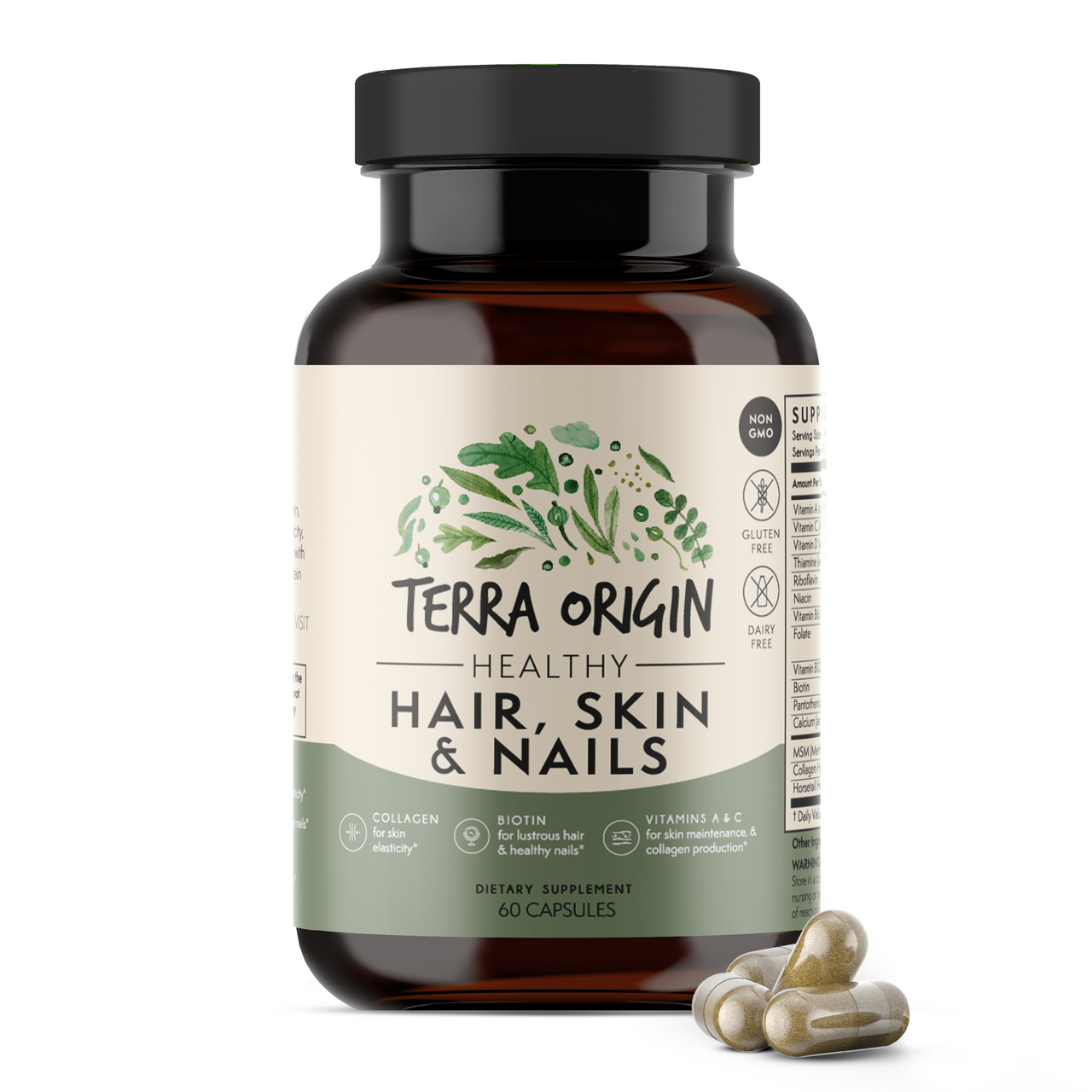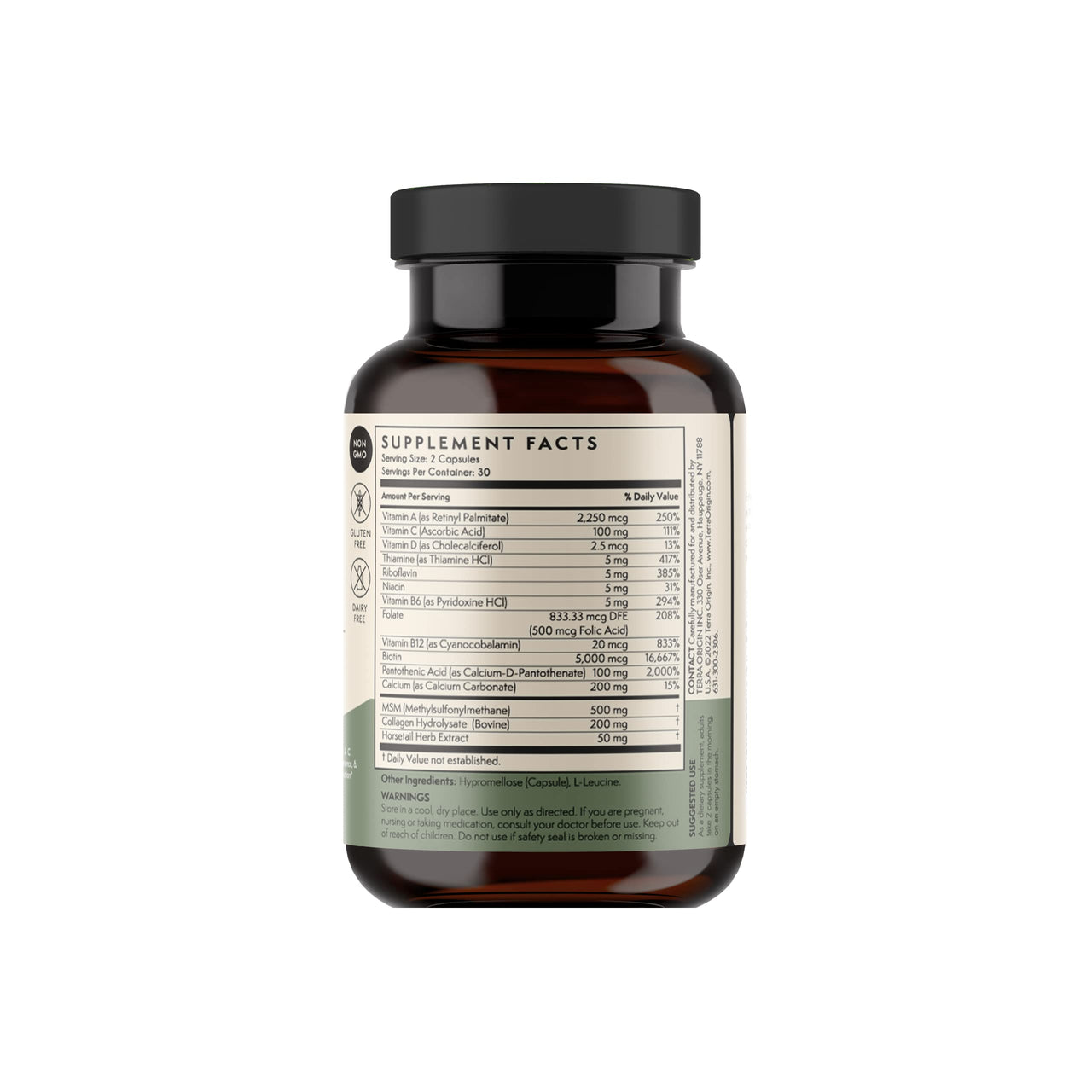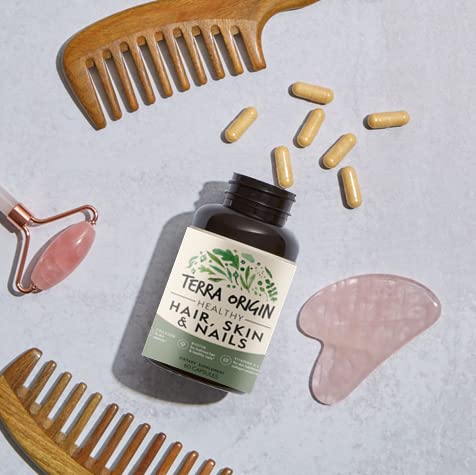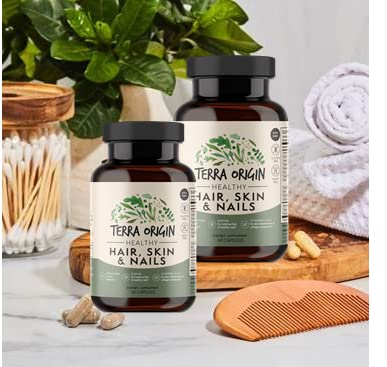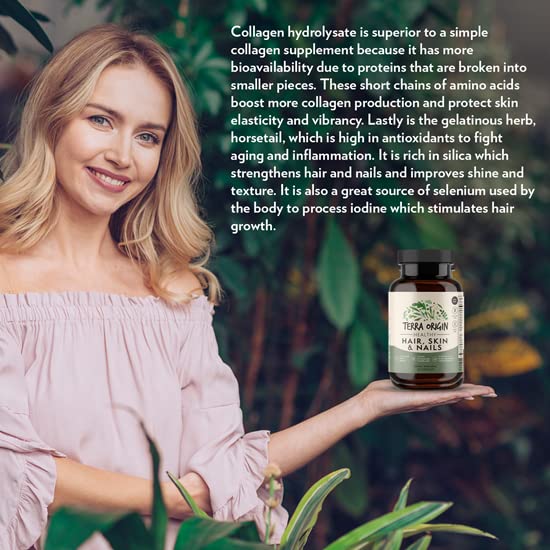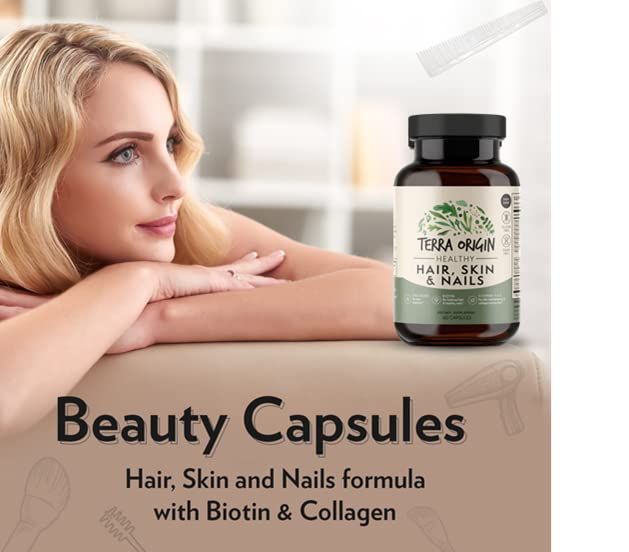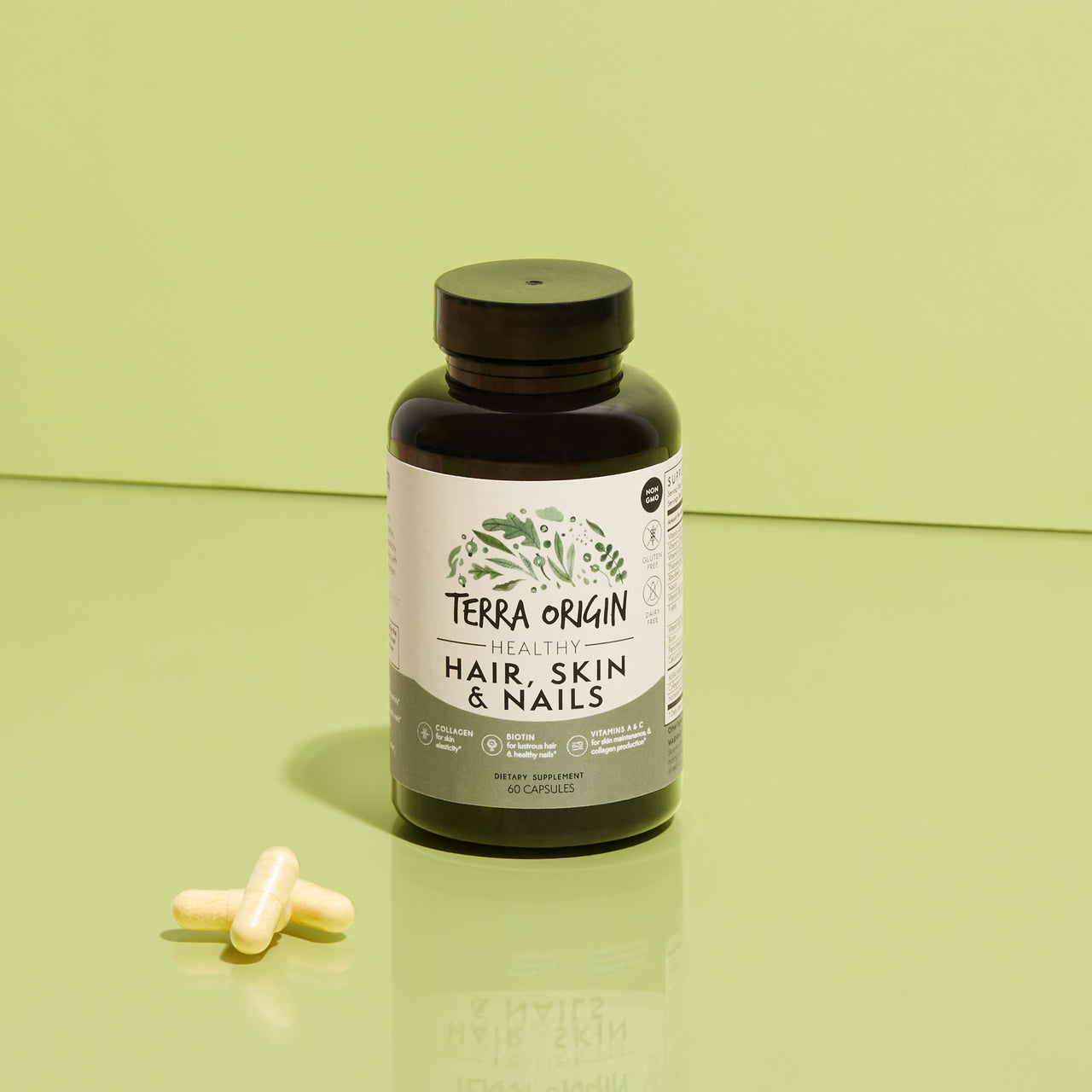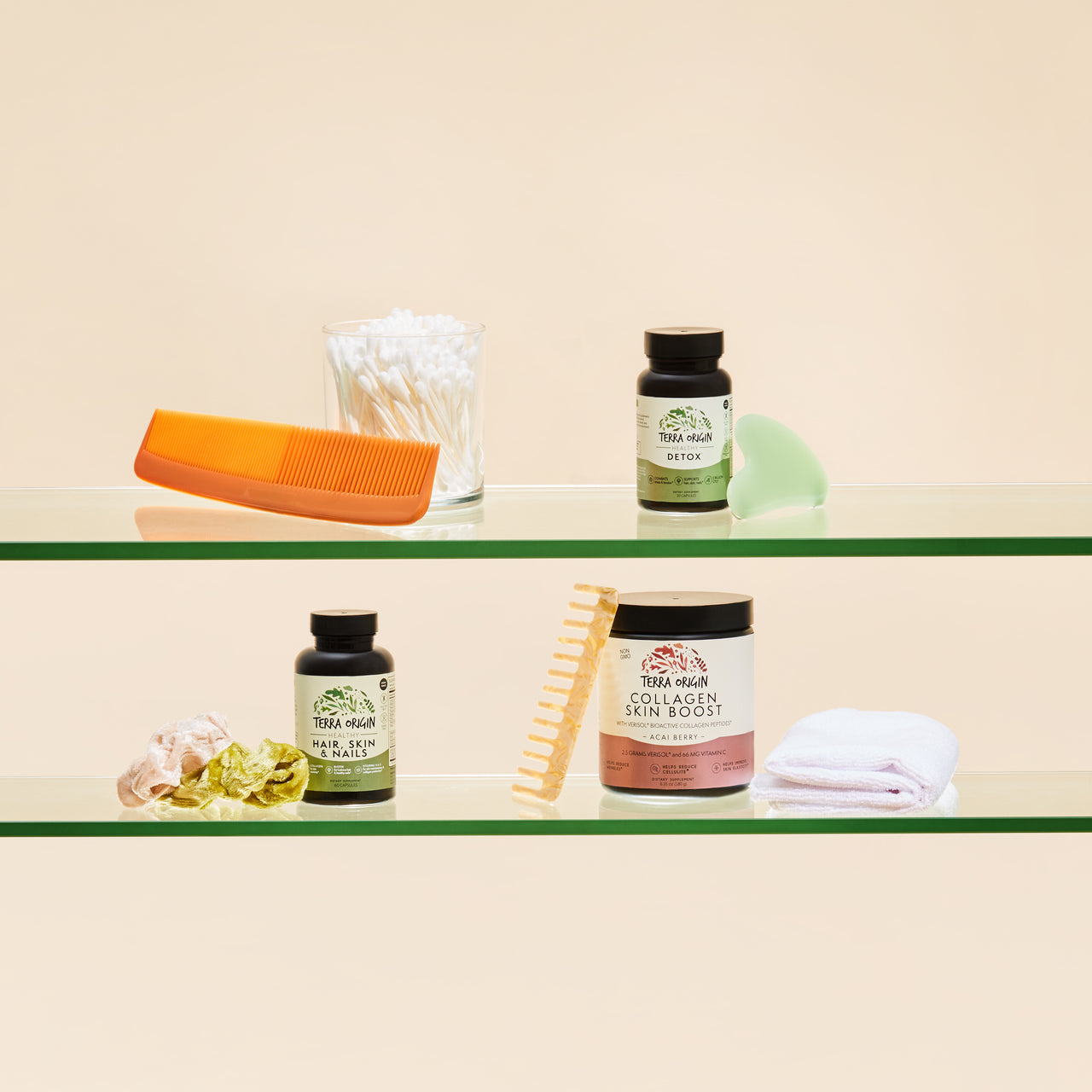 Description
Supplement Facts
More Details
Satisfaction Guarantee
Shipping
Formulated to provide your body with key nutrients and nutraceuticals to help support beauty from within, including collagen hydrolysate to support skin elasticity, high potency B vitamins including riboflavin to help with energy metabolism, and biotin which helps to maintain lustrous hair and healthy nails.*
SUPPLEMENT FACTS
Serving Size: 2 Capsules Servings Per Container: 30
Amount Per Serving
%
Daily Value
Vitamin A (as Retinyl Palmitate)
2250mcg
250%
Vitamin C (Ascorbic Acid)
100mg
111%
Vitamin D (as Cholecalciferol)
2.5mcg
13%
Thiamine (as Thiamine HCl)
5mg
417%
Riboflavin
5mg
385%
Niacin
5mg
31%
Vitamin B6 (as Pyridoxine HCl)
5mg
294%
Folate
833.33 mcg DFE
(500 mcg Folic Acid)
208%
Vitamin B12 (as Cyanocobalamin)
20mcg
833%
Biotin
5000mcg
16,667%
Pantothenic Acid (as Calcium-DPantothenate)
100mg
2,000%
Calcium (as Calcium Carbonate)
200mg
15%
MSM (Methylsulfonylmethane)
500mg
†
Collagen Hydrolysate
200mg
†
Horsetail Herb Extract
50mg
†
† Daily Value not established.
Other Ingredients: Hypromellose (Capsule), L-Leucine.
Biotin plays a key role in both hair and nail vitality and growth. It strengthens the keratin structure which is the primary building block for hair, skin and nails and it aids in the metabolizing and synthesis of fatty acids which protects cells and retains moisture. Methylsulfonylmethane, MSM, is an organic, biologically active sulfur and it is essential for collagen production and the growth of new tissue cells. It is also key in the development of keratin which is critical for the strength and volume of both hair and nails. As the body ages, feels stressed or fights illness and disease, it redirects vitamins and minerals to go to essential processes. Unfortunately, hair, skin and nails do not make the cut. It is important to nourish these systems from within to retain their healthy and vital appearance which is why we have formulated a supplement to safeguard your youth and beauty.
Biotin 5,000 mcg
Supports firmer, thicker and harder nails, decreases fingernail splitting and promotes hair growth*
MSM (Methylsulfonylmethane) 500 mg
Improves hair volume and thickness, improves nail health, builds collagen and reduces inflammation*
Collagen Hydrolysate (Bovine) 200 mg
Reduces wrinkles and improves skin elasticity, replenishes hair loss and strengthens nails*
Horsetail Herb Extract 50 mg
Antioxidant, anti aging and anti-inflammatory, increases collagen, provides silica to strengthen hair*
Collagen hydrolysate is superior to a simple collagen supplement because it has more bioavailability due to proteins that are broken into smaller pieces. These short chains of amino acids boost more collagen production and protect skin elasticity and vibrancy. Lastly is the gelatinous herb, horsetail, which is high in antioxidants to fight aging and inflammation. It is rich in silica which strengthens hair and nails and improves shine and texture. It is also a great source of selenium used by the body to process iodine which stimulates hair growth.
*These statements have not been evaluated by the Food & Drug Administration. This product is not intended to diagnose, treat, cure or prevent any disease
If you are unsatisfied with your order for any reason, you may return the item for a full refund.  Contact us at info@terraorigin.com today for a free return shipping label.  The refund will be processed as soon as we receive the package. We accept returns within 30 business days of purchase date.
As of 11/2021 Free Shipping is offered in the 48 contiguous United States.  Orders to Alaska, Hawaii and Puerto Rico will be assessed a shipping fee.