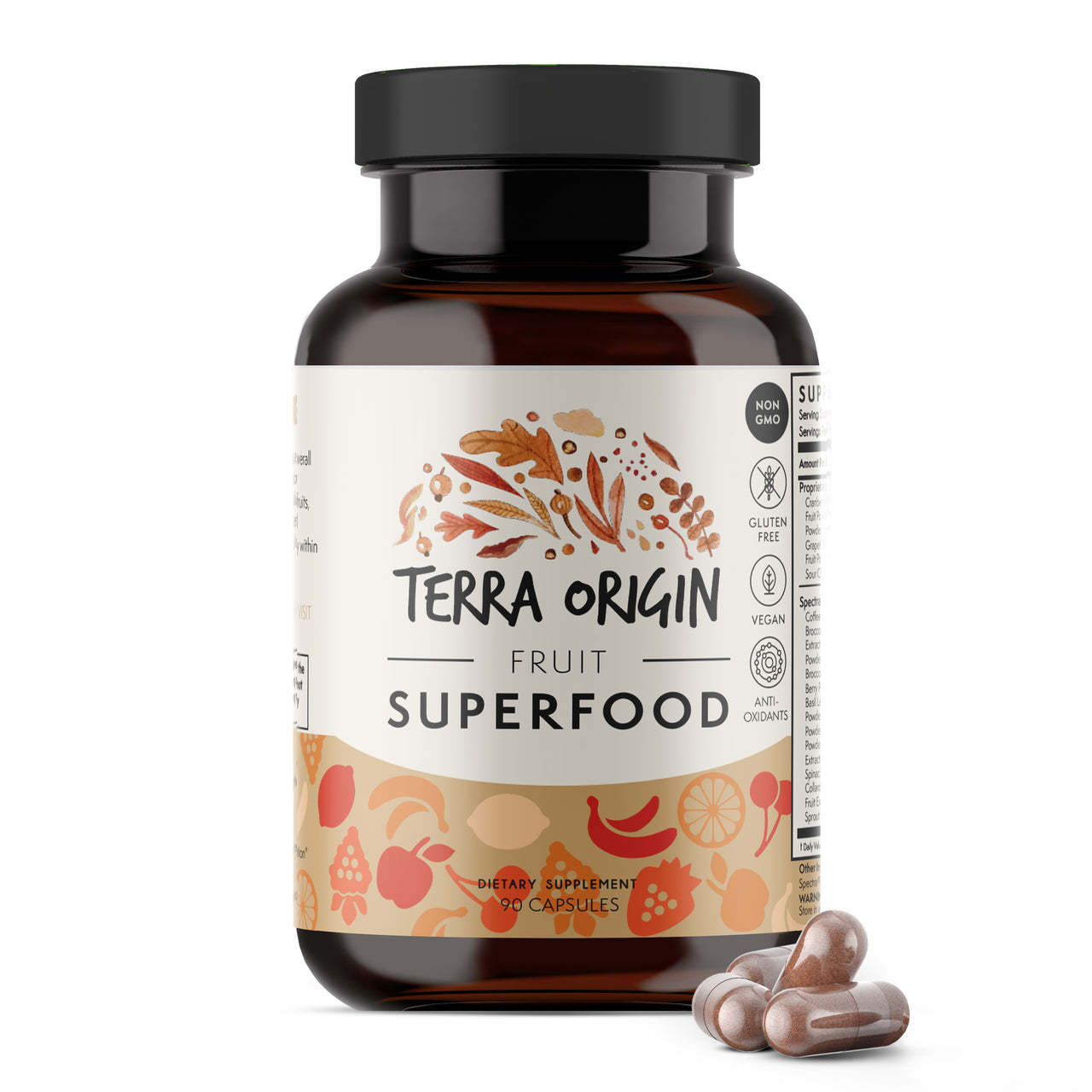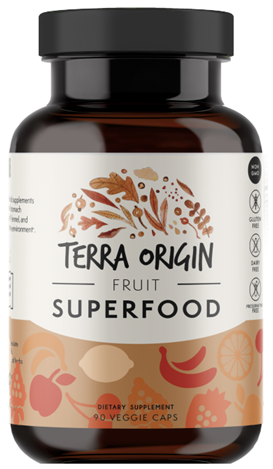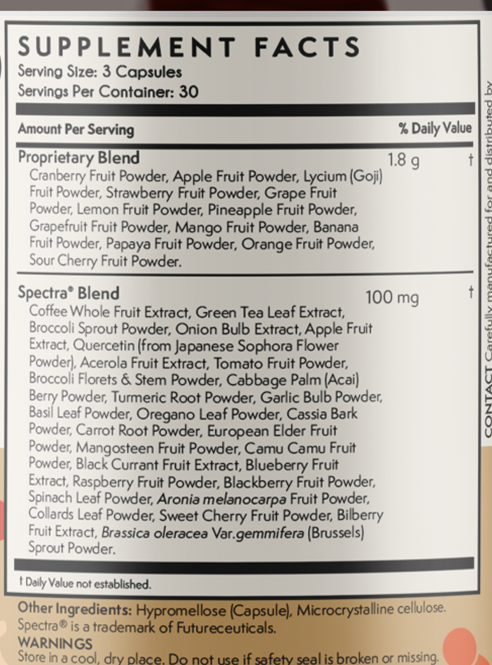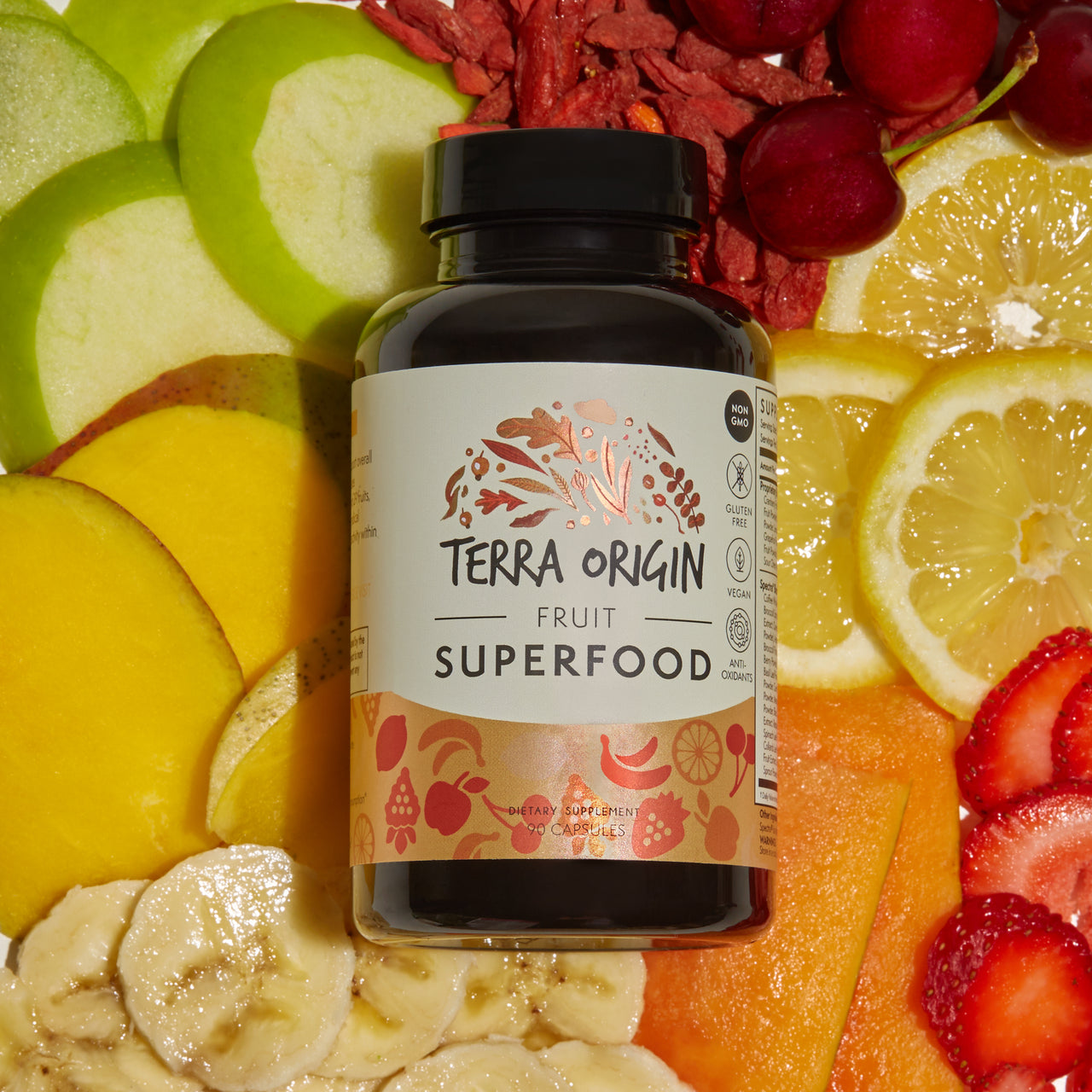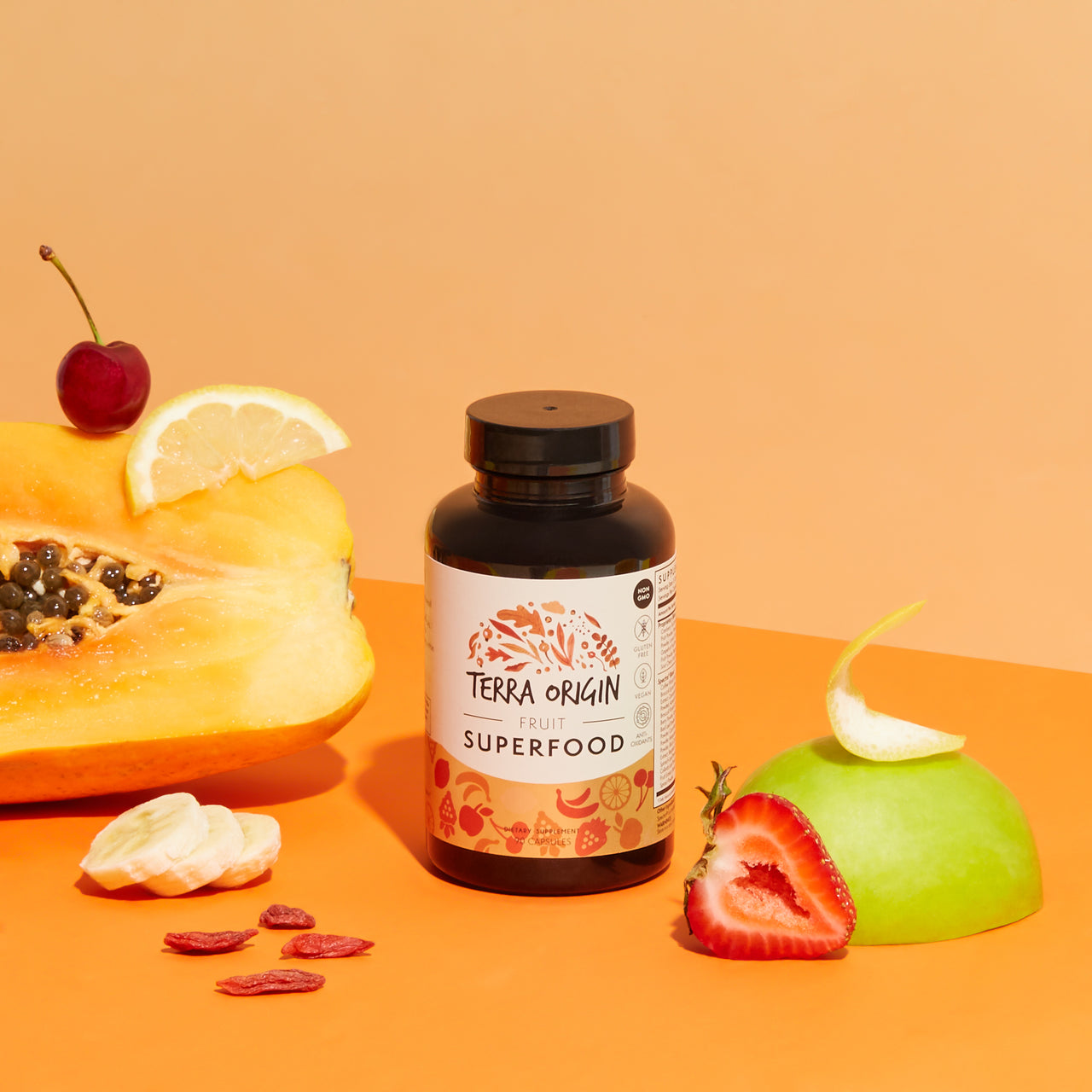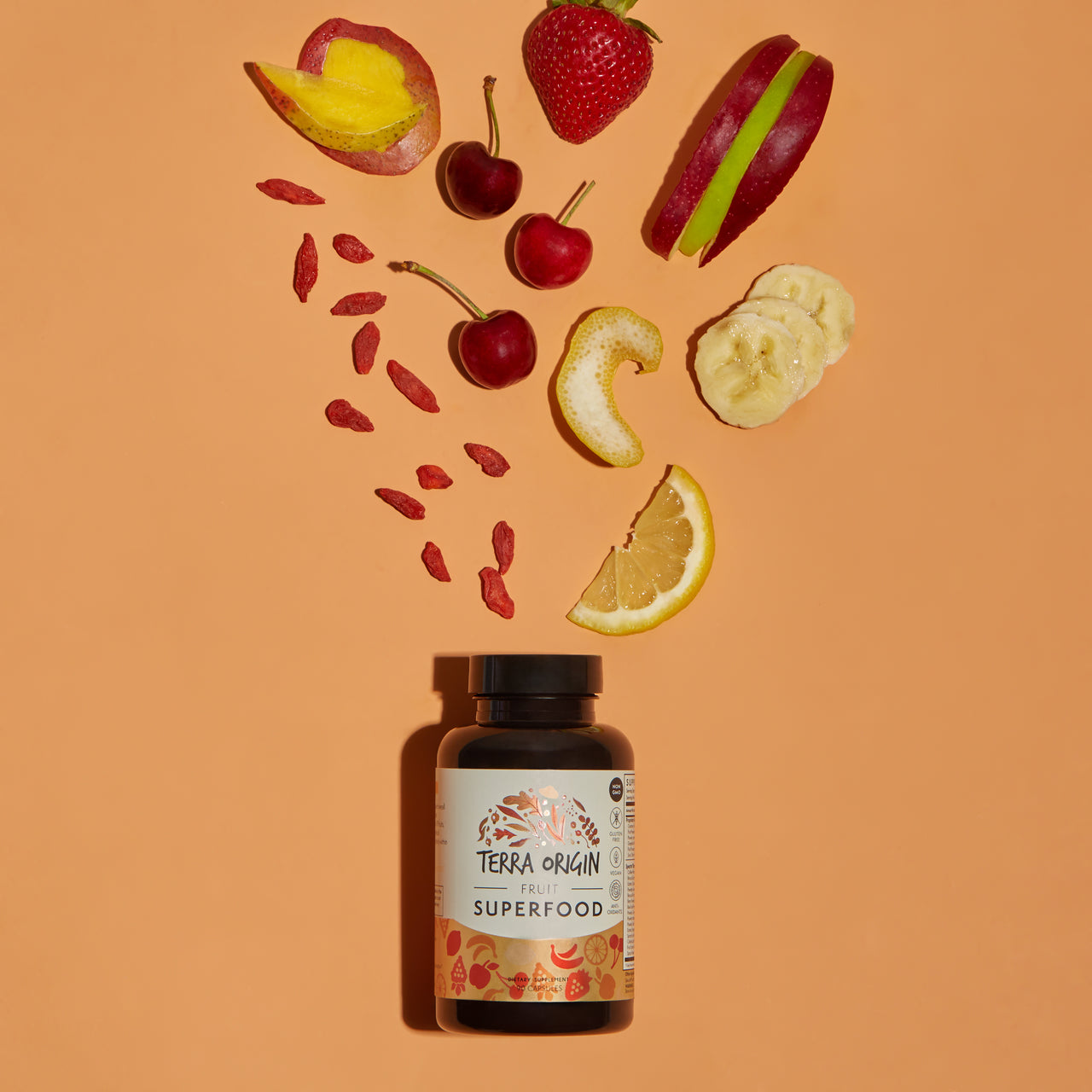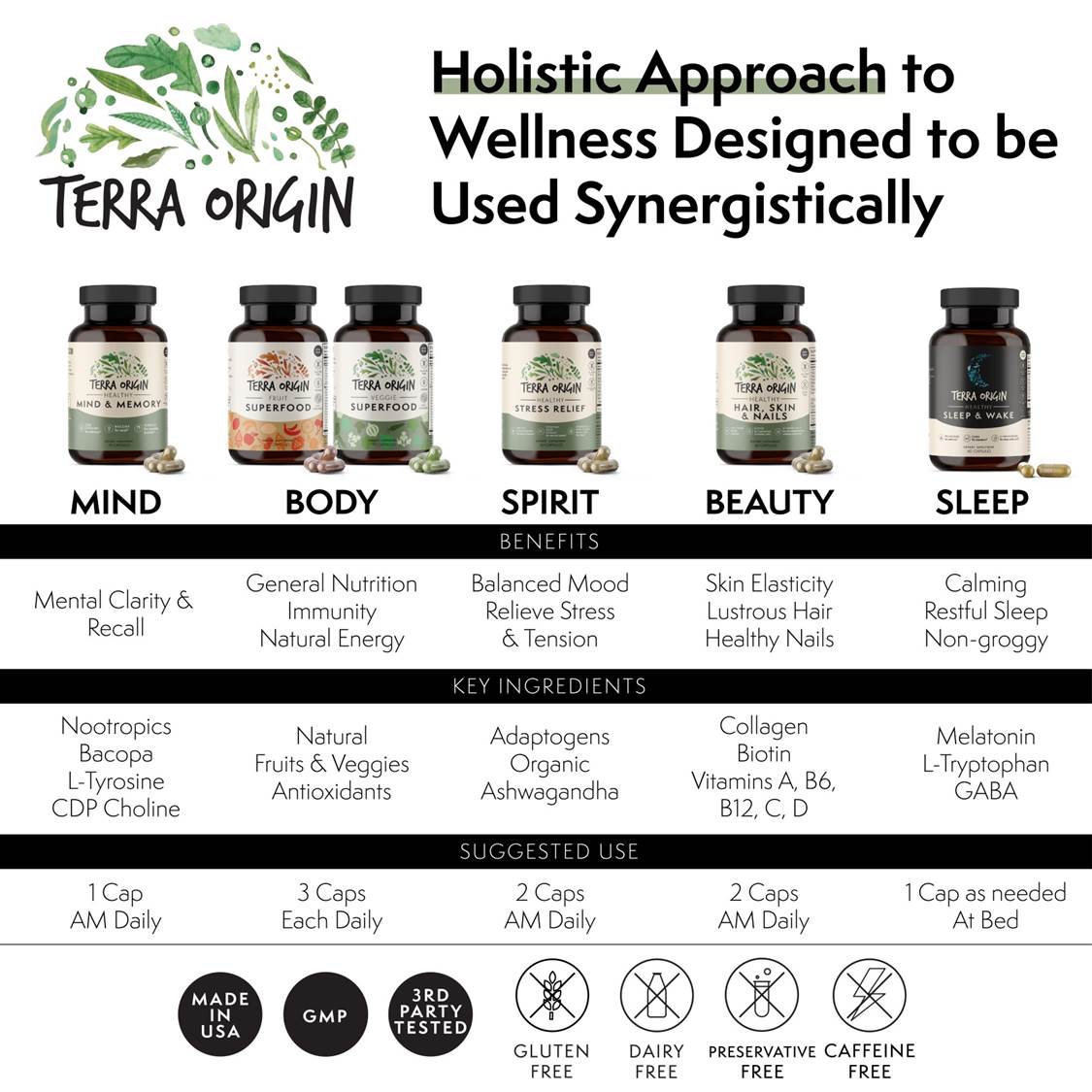 Description
Supplement Facts
More Details
Satisfaction Guarantee
Shipping
Plant based, whole nutrient-rich fruits and vegetables to support overall nutrition and a strong immune system. Includes Spectra(R), a scientifically validated formula of 29 fruits, vegetables, and herbs shown to inhibit free radical production and optimize cellular metabolic activity within the human body.*

SUPPLEMENT FACTS
Serving Size: 2 Capsules Servings Per Container: 30
Amount Per Serving
%
Daily Value
Proprietary Blend
1.2g
†
Cranberry Fruit Powder, Apple Fruit Powder,
Lycium (Goji) Fruit Powder, Strawberry Fruit
Powder, Grape Fruit Powder, Lemon Fruit
Powder, Pineapple Fruit Powder, Grapefruit
Fruit Powder, Mango Fruit Powder, Aloe Vera
Leaf Powder, Banana Fruit Powder, Papaya
Fruit Powder, Sour Cherry Fruit Powder,
Orange Fruit Powder.
Spectra Blend
100mg
†
Coffee Whole Fruit Powder, Green Tea Leaf
Extract, Broccoli Sprout Powder, Onion Bulb
Extract, Apple Fruit Extract, Quercetin(from
Japanese Sophora Flower Powder), Acerola
Fruit Extract, Tomato Fruit Powder, Broccoli
Florets & Stem Powder, Cabbage palm (Acai)
Berry Powder, Turmeric Root Powder, Garlic
Bulb Powder, Basil Leaf Powder, Oregano Leaf
Powder, Cassia Bark Powder, Carrot Root
Powder, European Elder Fruit Powder,
Mangosteen Fruit Powder, Camu Camu Fruit
Powder, Black currant Fruit Extract, Blueberry
Fruit Extract, Raspberry Fruit Powder,
Blackberry Fruit Powder, Spinach Leaf Powder,
Aronia Melanocarpa Fruit Powder, Collards
Leaf Powder, Sweet Cherry Fruit Powder,
Bilberry Fruit Extract, Brassica oleracea
Var.gemmifera (Brussels) Sprout Powder.
† Daily Value not established.
Other Ingredients: Hypromellose (Capsule), Rice Flour, Magnesium Stearate.
Spectra™ is a trademark of Futureceuticals.
Benefits:
Stimulated antioxidant activity within the human body*
Inhibits free radicals*
Supports efficient cellular oxygen consumption*
Optimizes cellular metabolism
Supports a healthy immune response*
*These statements have not been evaluated by the Food & Drug Administration. This product is not intended to diagnose, treat, cure or prevent any disease.
If you are unsatisfied with your order for any reason, you may return the item for a full refund.  Contact us at info@terraorigin.com today for a free return shipping label.  The refund will be processed as soon as we receive the package. We accept returns within 30 business days of purchase date.
As of 11/2021 Free Shipping is offered in the 48 contiguous United States.  Orders to Alaska, Hawaii and Puerto Rico will be assessed a shipping fee.