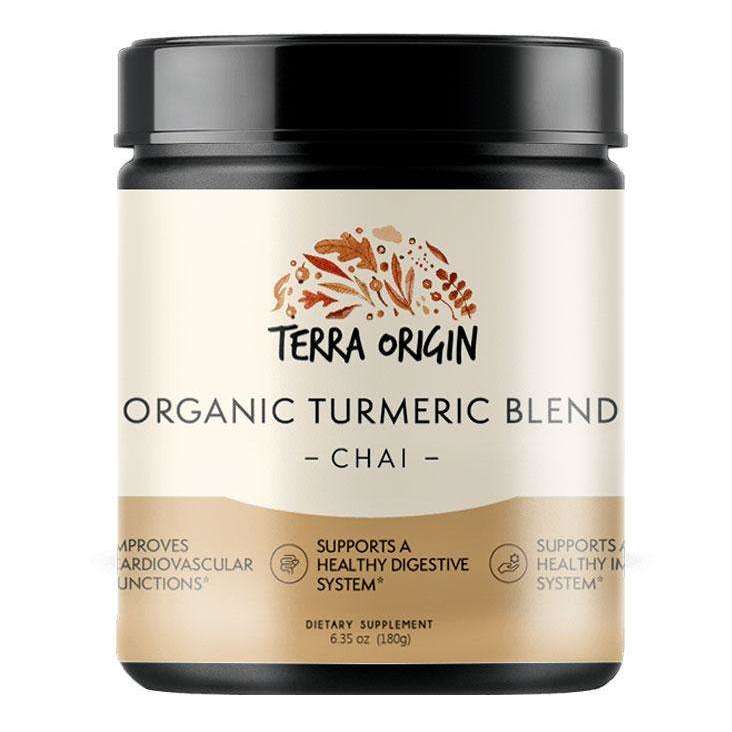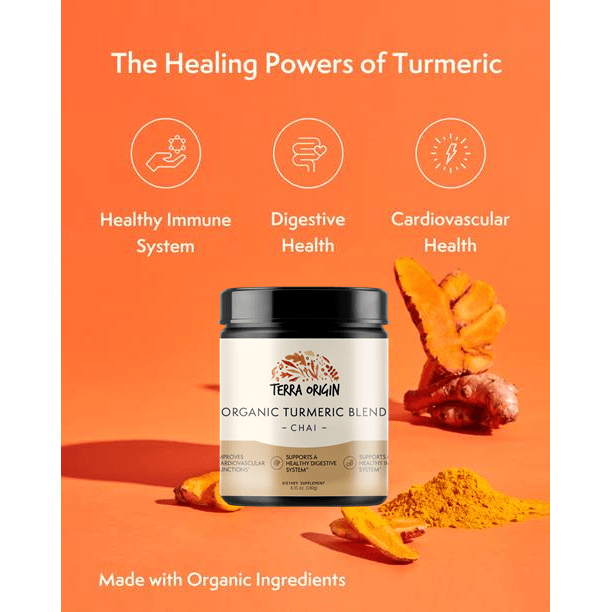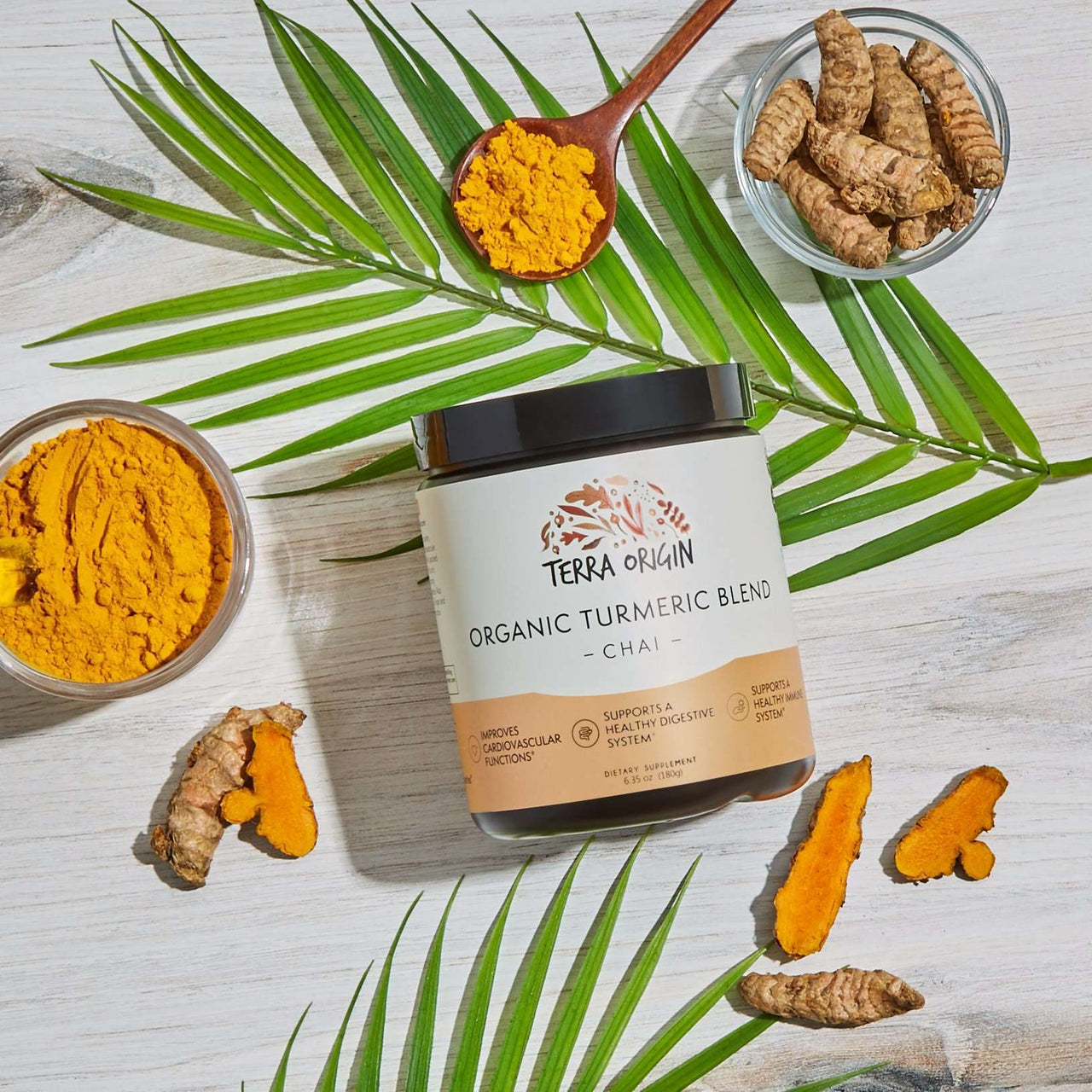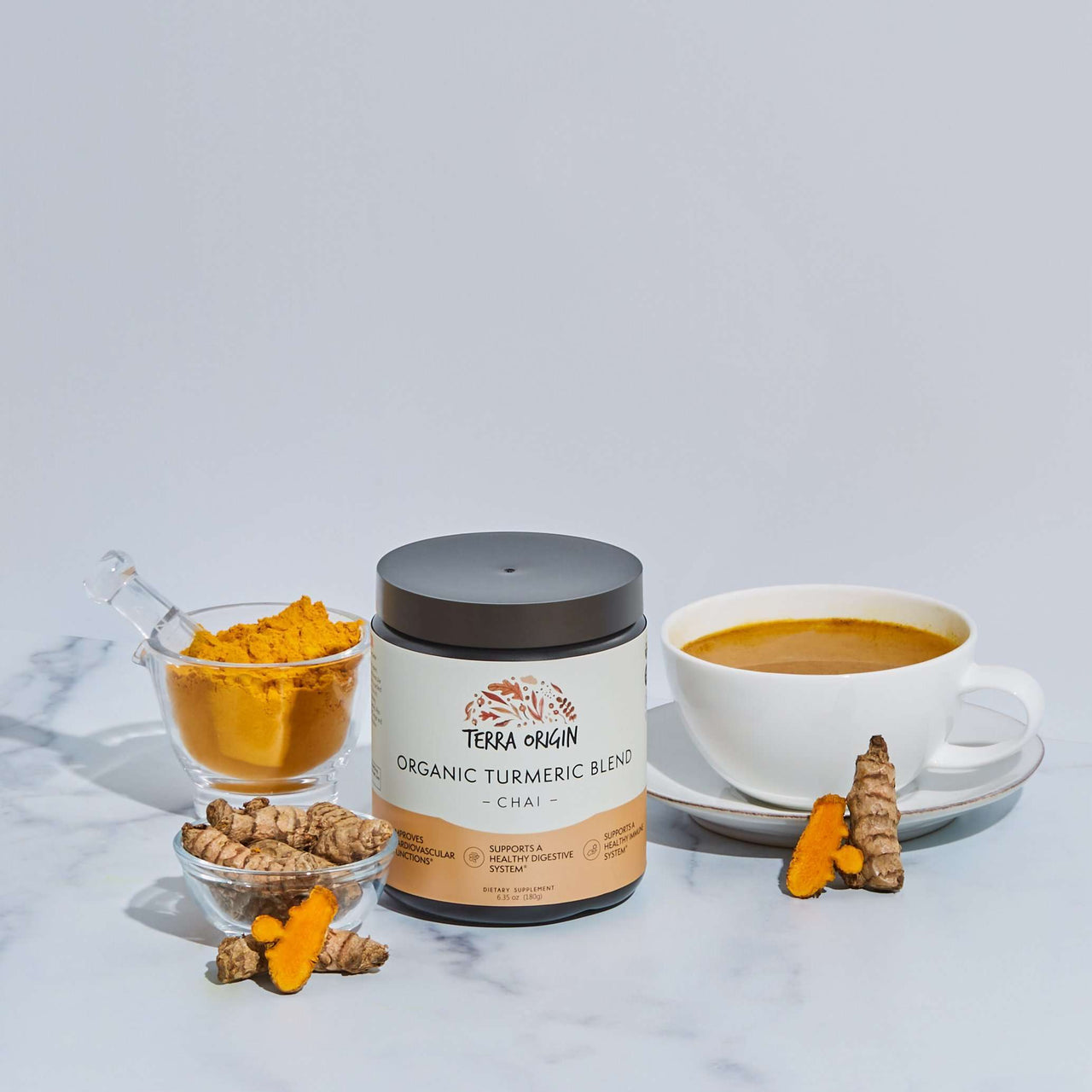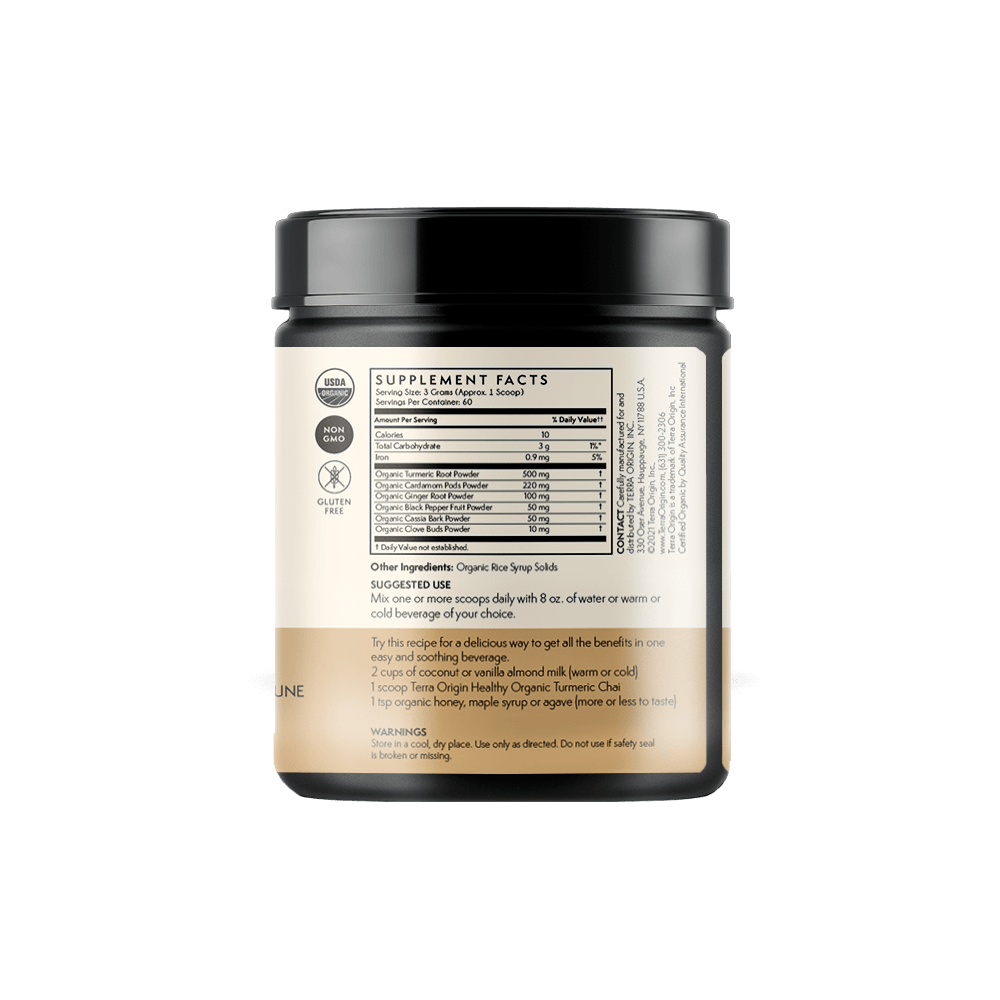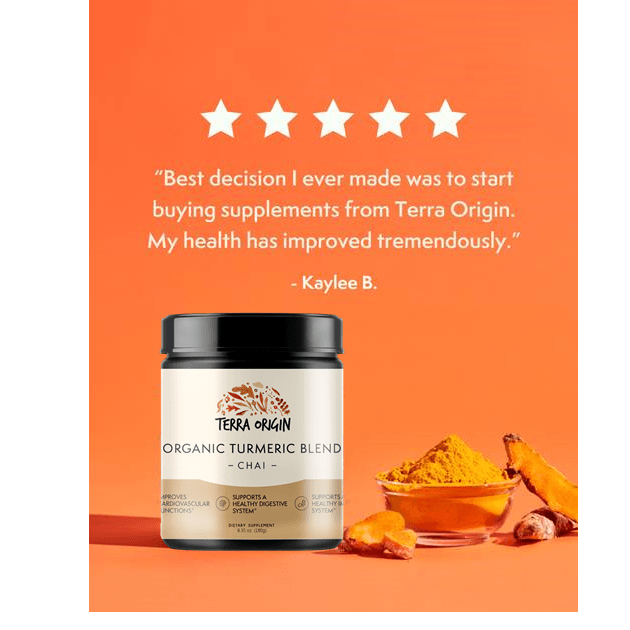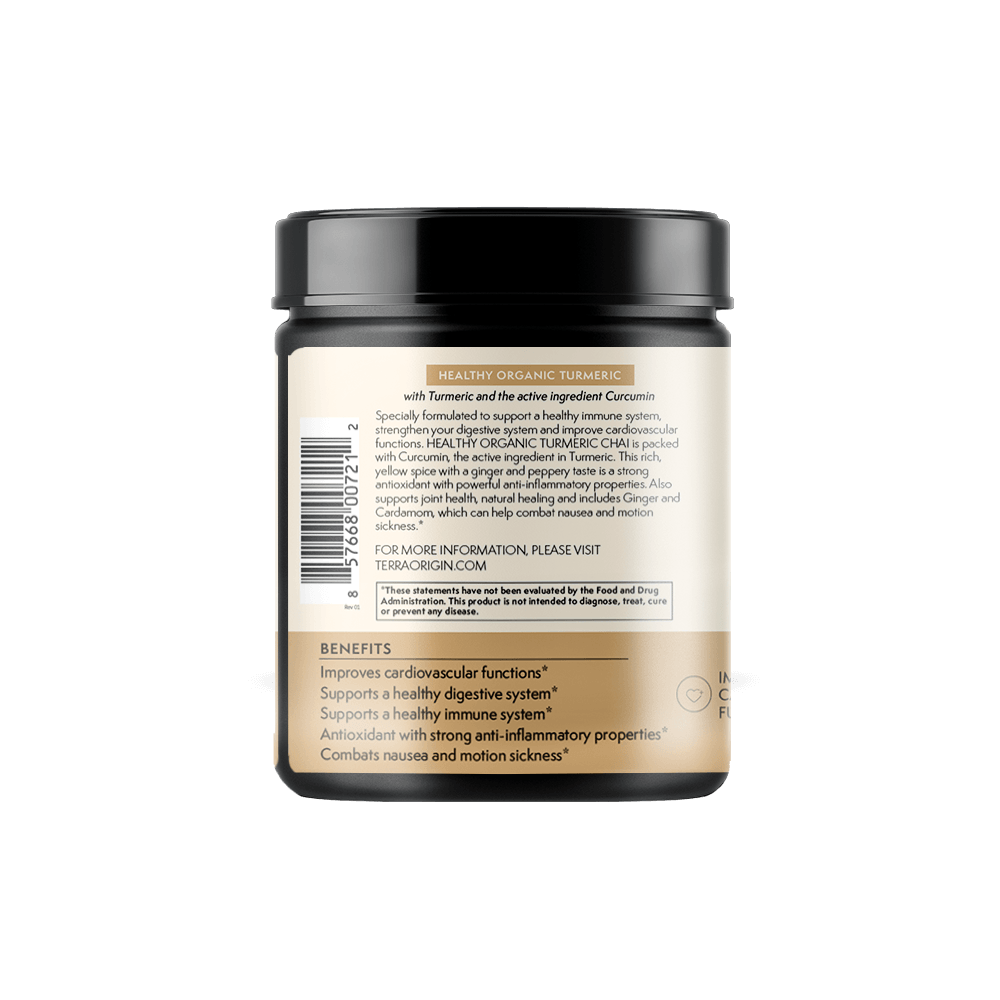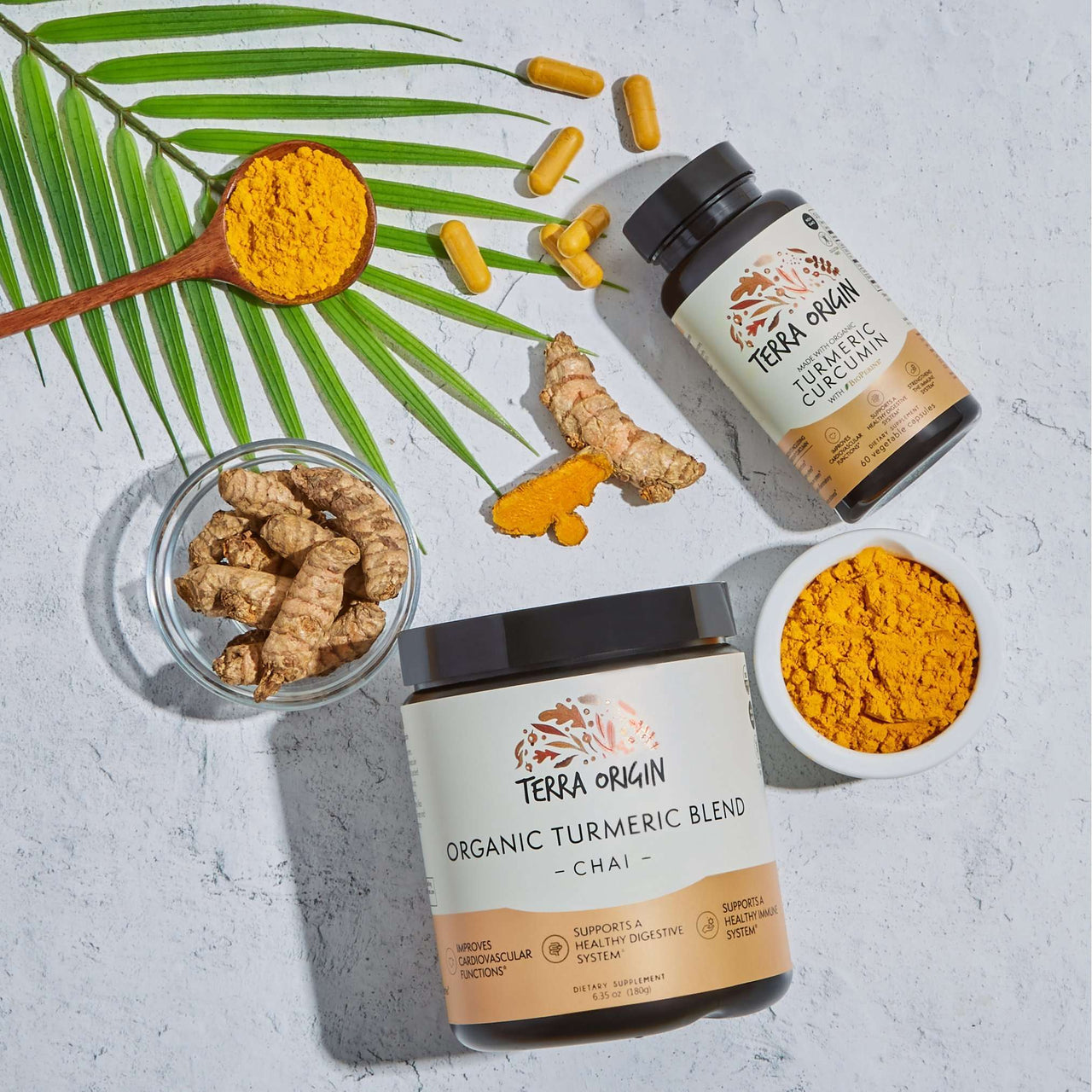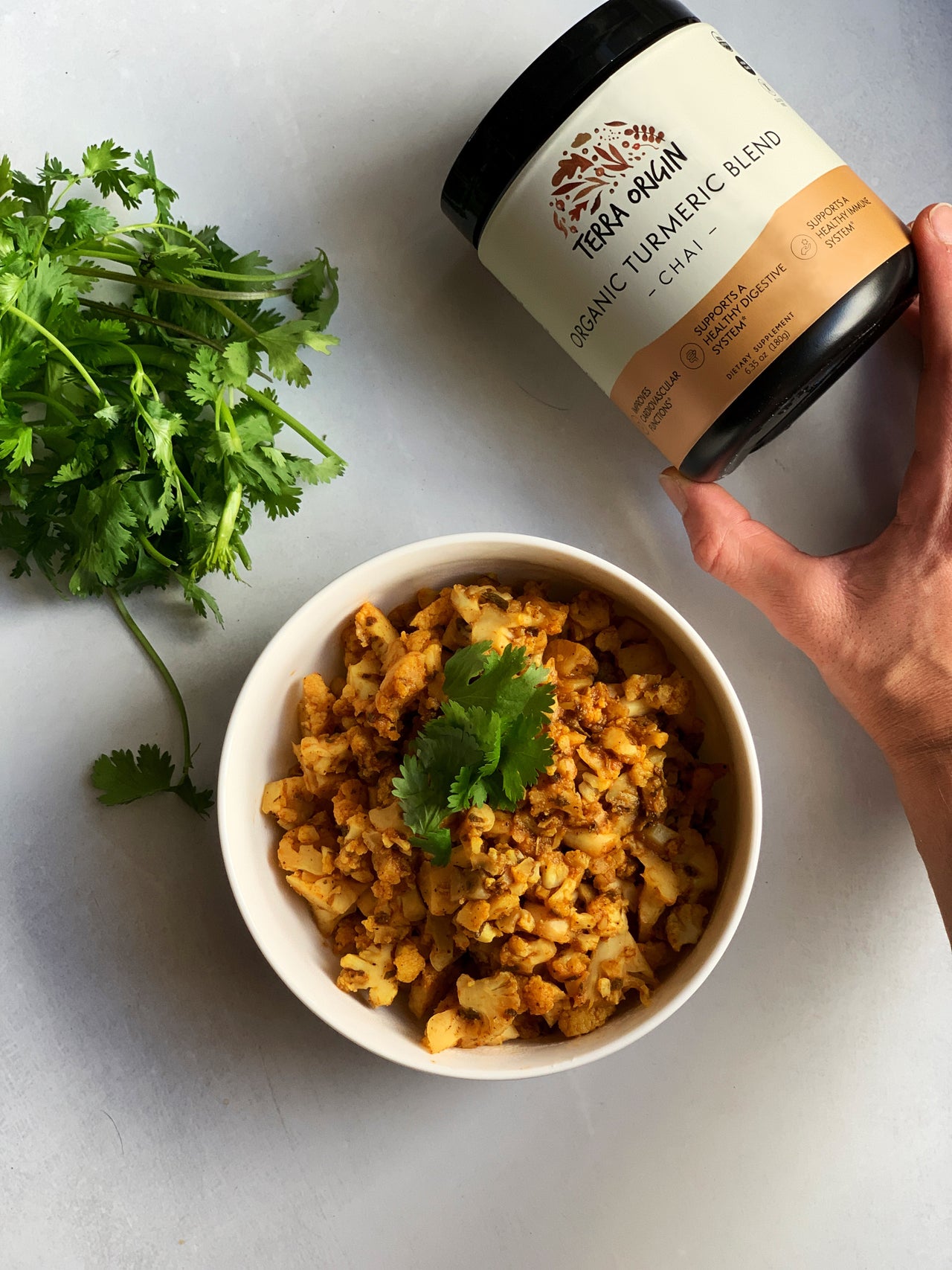 Description
Supplement Facts
More Details
Satisfaction Guarantee
Shipping
A Healthy Immune System
Support The Digestive System
Cardiovascular System*
When we're inflamed, our body can't heal. In fact, most diseases, and even most of our pains, are the result of inflammation. And while some inflammation is necessary to protect wounded areas, for too many people, internal inflammation causes severe health issues that range from heart disease to overall soreness and pervasive aches and pains. But nature is an amazing healer when used the right way.
Our Organic Turmeric Blend was designed to directly attack inflammation from the inside out. And because it tastes great, we recommend trying it warmed up with almond milk or mixed with black tea. (you're welcome)
There are so many things to love about turmeric. Add in ginger, cinnamon, clove and cardamom and you've got a delicious supplement that can help reduce swelling throughout the body, boost your immune system, aid in your digestion and alleviate pressure on your cardiovascular system.
We've also added in ginger — which can help reduce or eliminate gas and bloating, as well as minimize nausea and pain. And, if it's antioxidants you want, this organic supplement is chock full! With cinnamon, clove and cardamom, they work together to help support your overall digestion, detoxify the body and defend against cellular damage.
*These statements have not been evaluated by the Food & Drug Administration. This product is not intended to diagnose, treat, cure or prevent any disease.
SUPPLEMENT FACTS
Serving Size: 3 Grams (Approx.1 Scoop) Servings Per Container: 60
Amount Per Serving
%
Daily Value
Calories
10
Total Carbohydrate
3 g
1%*
Iron
0.9 mg
5%
Organic Turmeric Root Powder
500mg
†
Organic Cardamom Pods Powder
220 mg
†
Organic Ginger Root Powder
100mg
†
Organic Black Pepper Fruit Powder
50 mg
†
Organic Cassia Bark Powder
50 mg
†
Organic Clove Buds Powder
10mg
†
* Percent Daily Values are based on a 2,000 calorie diet. † Daily Value not established.
Other Ingredients: Organic Rice Syrup Solids
Turmeric is an ancient remedy that's been used in Ayurvedic medicine for centuries for both physical and mental health. Turmeric is known to affect our systems at a cellular and chemical level and has many properties that work to heal and align the body. We've paired a high dose of it with eastern herbs that are used to support a healthy immune, digestive and cardiovascular system. One of these herbs, black pepper, contains piperine, a bioactive compound which has been shown to speed up absorption and your metabolism, while helping relieve nausea, headaches and poor digestion.
Organic Turmeric Root 500 mg
Anti-inflammatory, neutralizes free radicals, improves memory, defends the brain and acts as an antidepressant*
Organic Cardamom Pods Powder 220 mg
May help lower blood pressure, powerful antioxidants, anti-inflammatory, aids in digestion*
Organic Ginger Root Powder 100 mg
Aids in digestion, soothes the stomach, treats nausea and indigestion, anti-inflammatory, antioxidant properties, reduce muscle pain and soreness*
Organic Black Pepper Fruit Powder 50 mg
Stimulates digestion, enhances bioavailability in the gut, increases metabolism, antibacterial, stimulates the brain, supports a healthy respiratory system*
Organic Cassia Bark Powder (Cinnamon) 50 mg
Protects against oxidative stress, anti-inflammatory, may help fight infections*
Organic Clove Buds 10 mg
Provides manganese, vitamin K and fiber, powerful antioxidant, may help support liver health and protects the mucosal stomach lining*
If you are unsatisfied with your order for any reason, you may return the item for a full refund.  Contact us at info@terraorigin.com today for a free return shipping label.  The refund will be processed as soon as we receive the package. We accept returns within 30 business days of purchase date.
As of 11/2021 Free Shipping is offered in the 48 contiguous United States.  Orders to Alaska, Hawaii and Puerto Rico will be assessed a shipping fee.