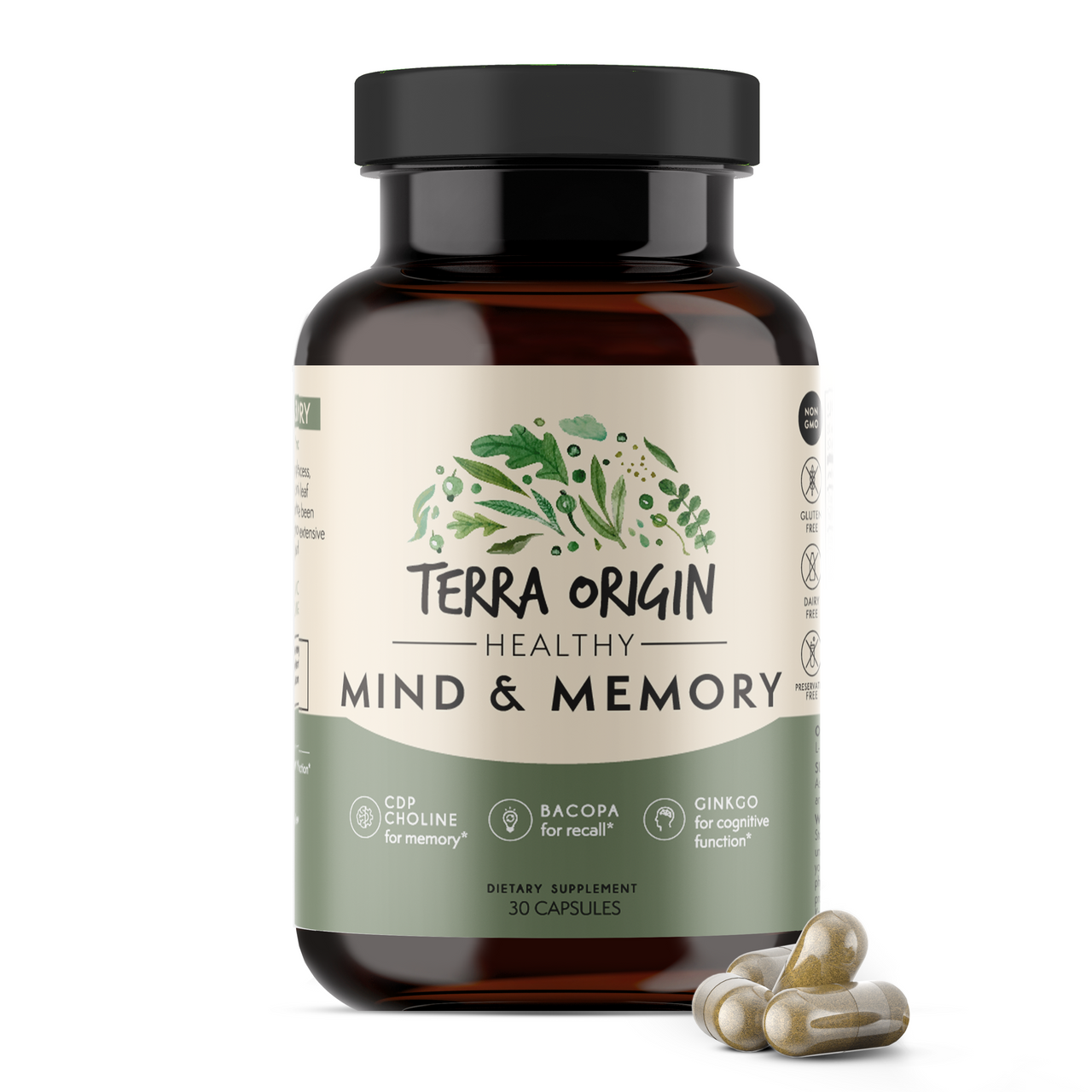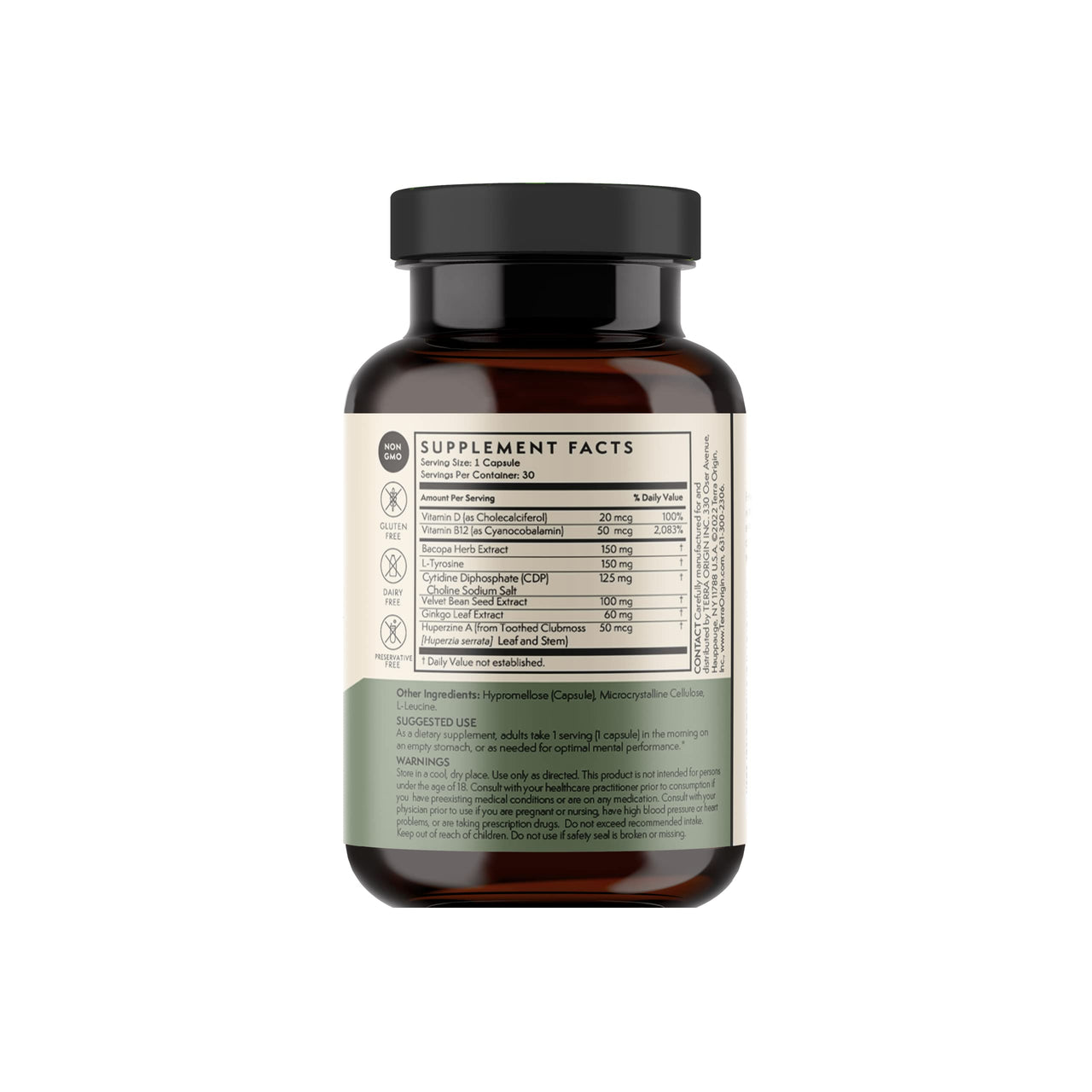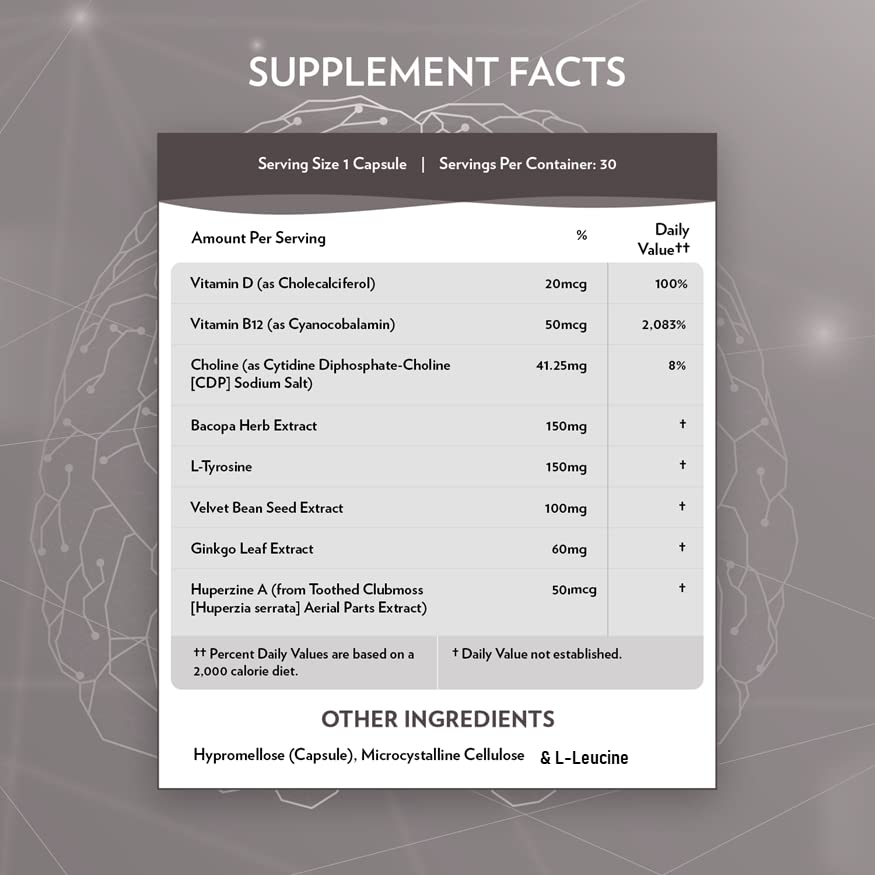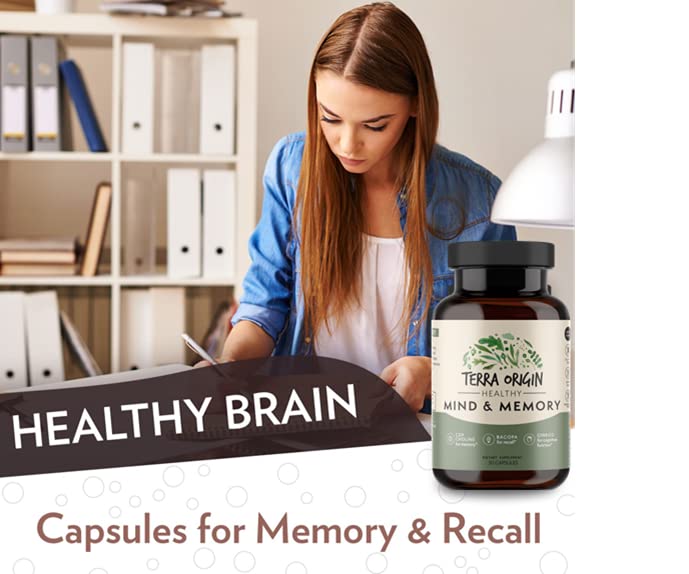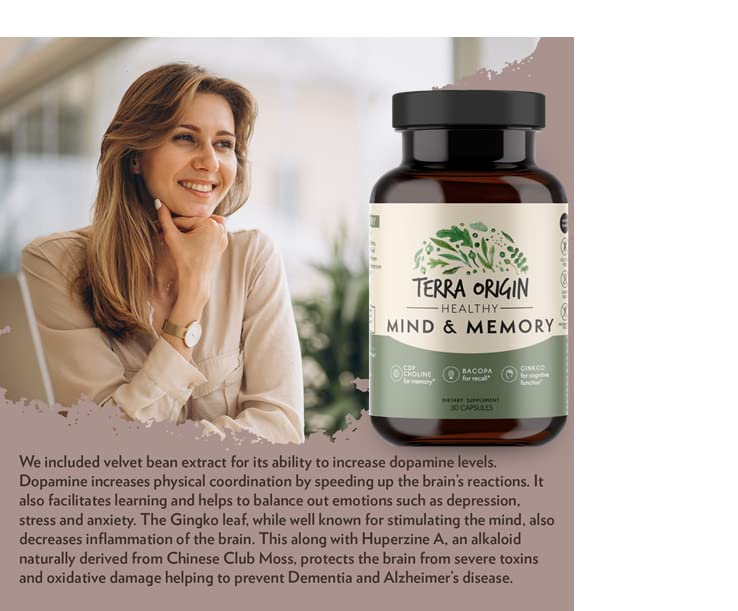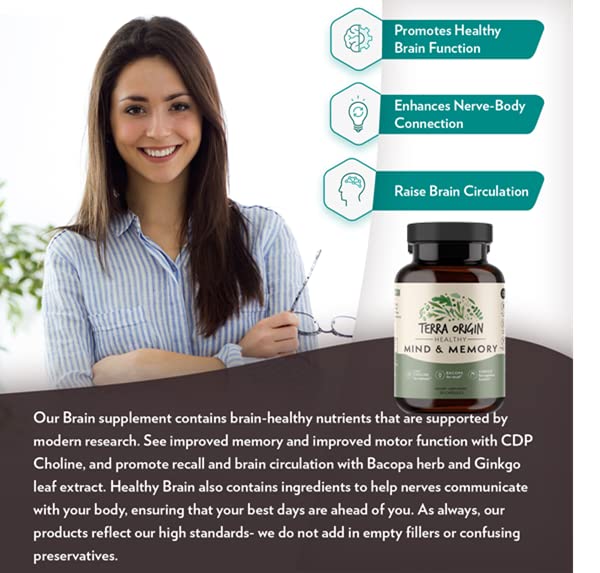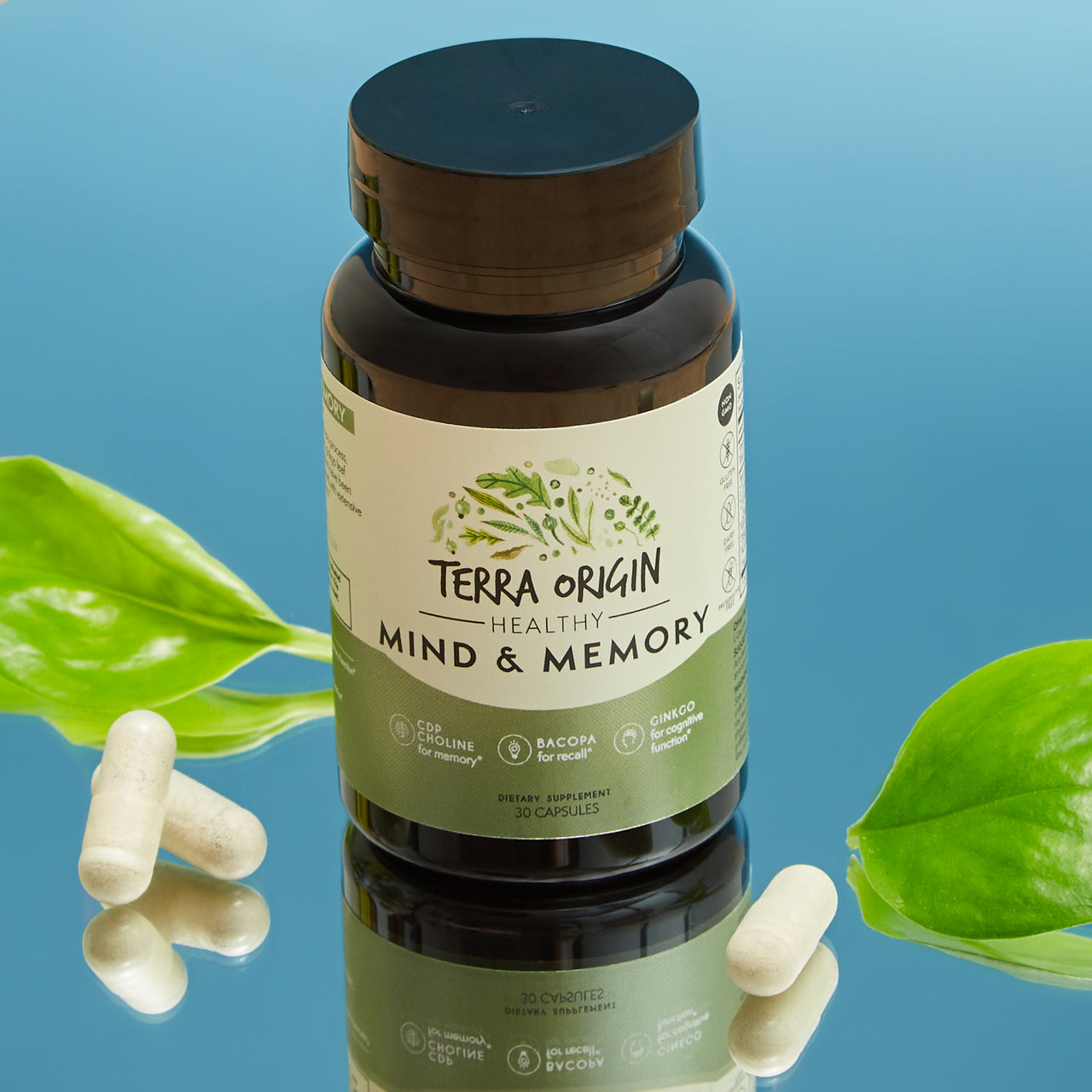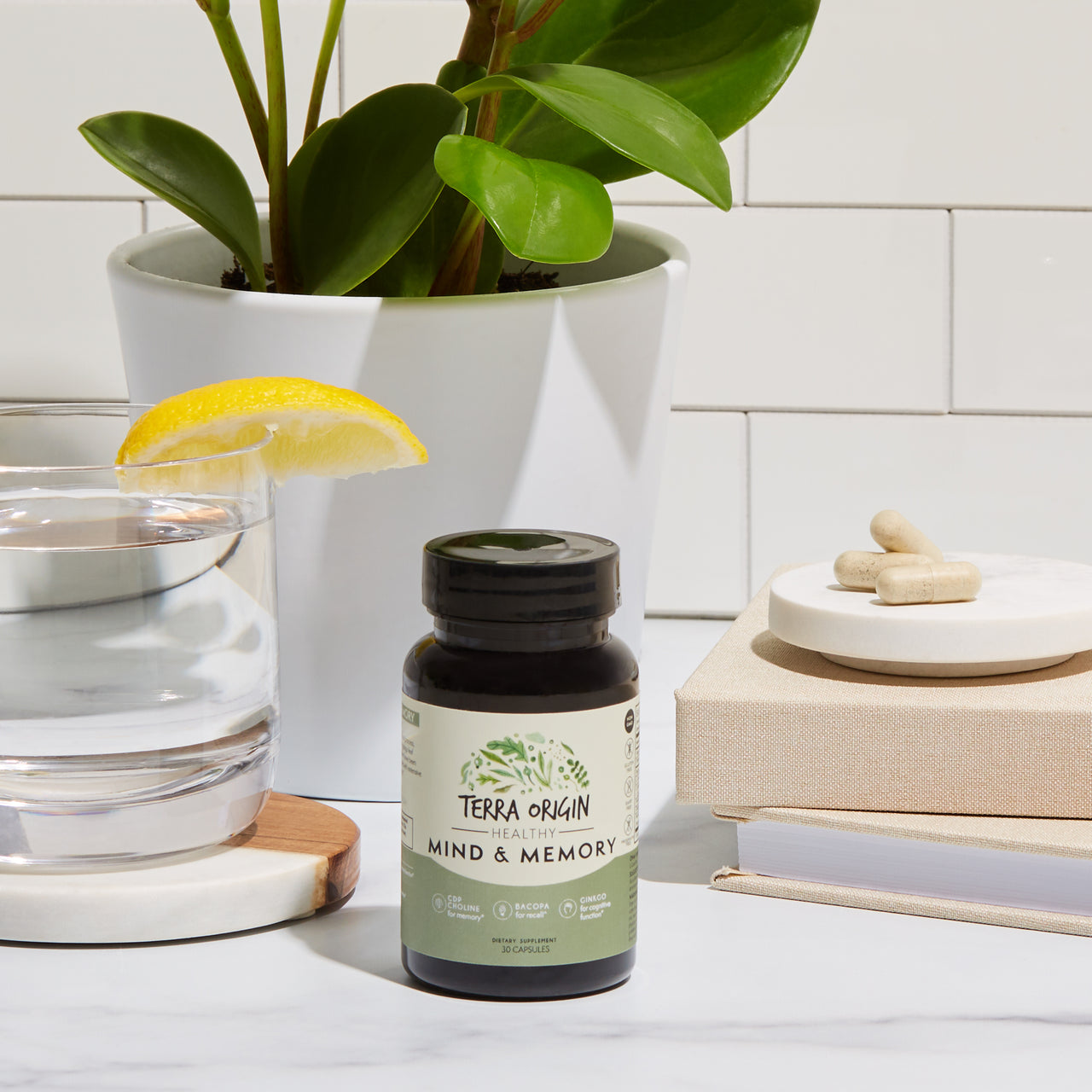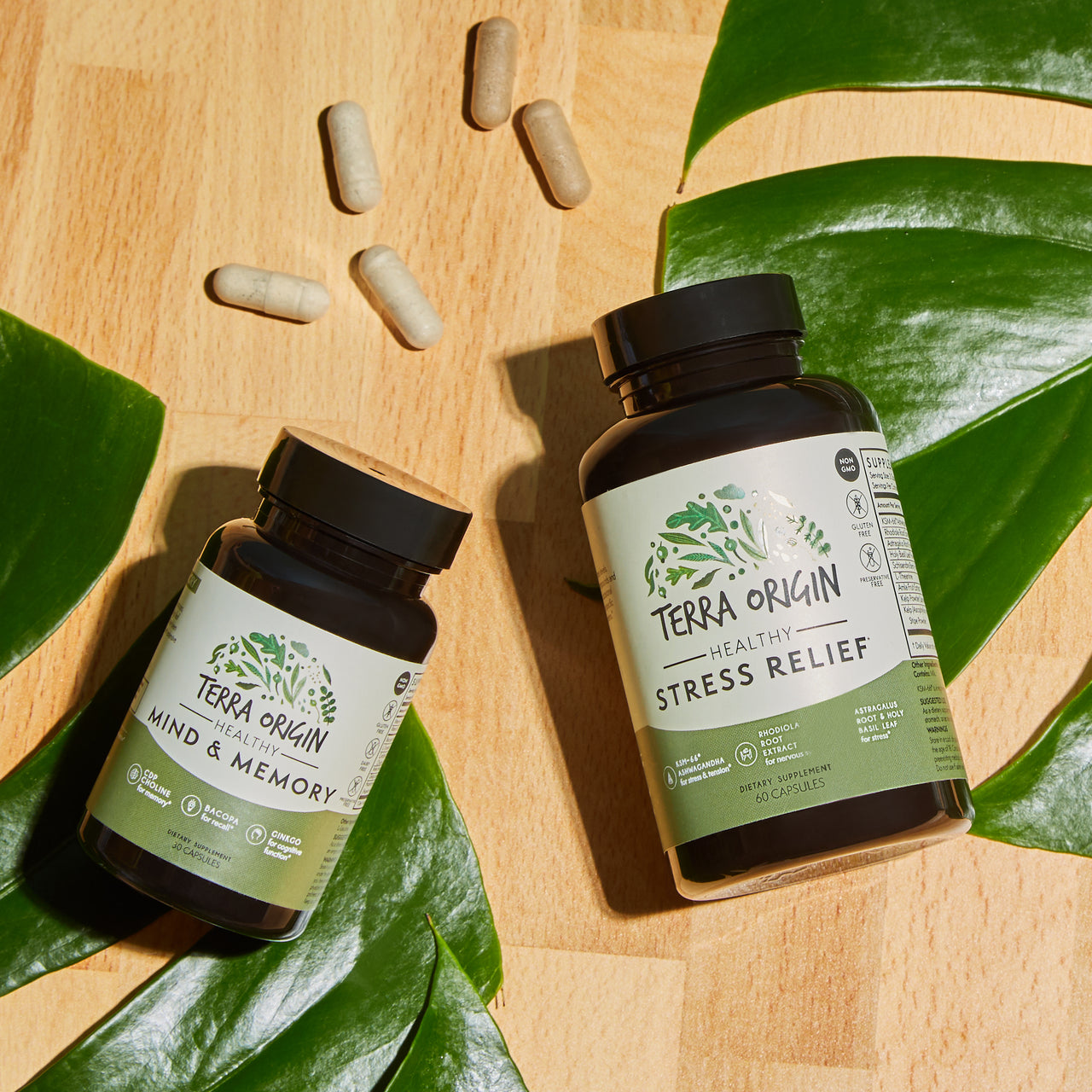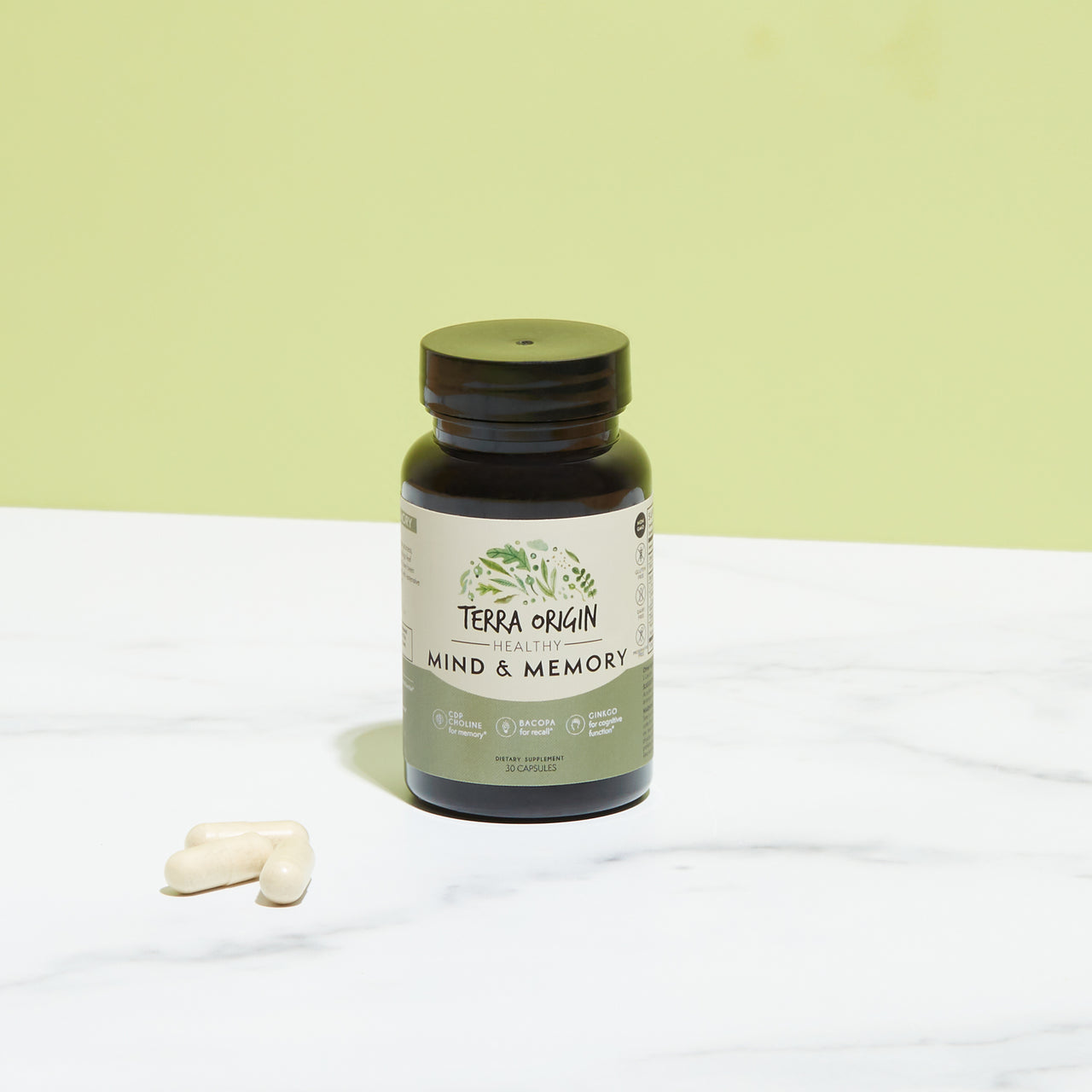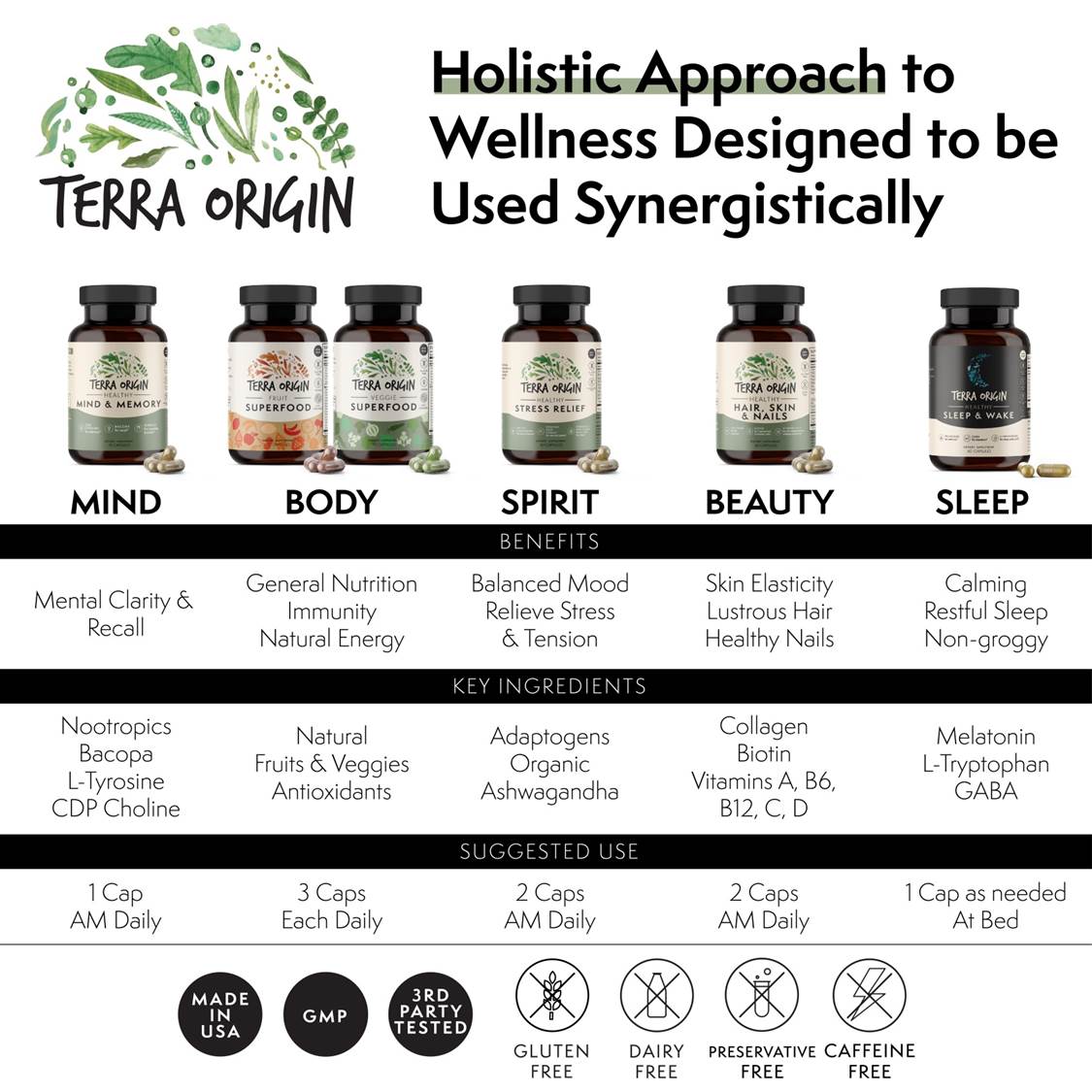 Description
Supplement Facts
More Details
Satisfaction Guarantee
Shipping
Formulated with powerful nutraceuticals that help you process, retain, and recall information quickly. CDP choline, ginkgo leaf extract, bacopa herb extract, huperzine A and others have been carefully chosen for their distinct benefits, supported with extensive research, to help your mind and memory stay sharp.*
SUPPLEMENT FACTS
Serving Size: 1 Capsule Servings Per Container: 30
| | | |
| --- | --- | --- |
| Amount Per Serving | % | Daily Value†† |
| Vitamin D (as Cholecalciferol) | 20mcg | 100% |
| Vitamin B12 (as Cyanocobalamin) | 50mcg | 2,083% |
| Choline (as Cytidine Diphosphate-Choline [CDP] Sodium Salt) | 41.25mg | 8% |
| Bacopa Herb Extract | 150mg | † |
| L-Tyrosine | 150mg | † |
| Velvet Bean Seed Extract | 100mg | † |
| Ginkgo Leaf Extract | 60mg | † |
| Huperzine A (from Toothed Clubmoss [Huperzia serrata] Aerial Parts Extract) | 50 mcg | |
†† Percent Daily Values are based on a 2,000 calorie diet. † Daily Value not established.
Other Ingredients: Hypromellose (Capsule), Microcystalline Cellulose & L-Leucine
We have specially formulated a supplement to combine the very best plant extracts and amino acids to boost mental performance, improve cognitive functioning including better memory, faster understanding and balanced mood processing. Healthy Brain will give your brain what it needs to learn faster and retain the information easier and recall it when you need it.
CDP Choline 41.25 mg
Helps to form acetylcholine and phosphatidylcholine for healthy memory function*
Bacopa Herb Extract 150 mg
Promotes healthy memory, improves delayed recall and occasional, age-related forgetfulness*
L-Tyrosine 150 mg
Restores cognitive resources used to increase the updating and maintenance of memory*
Velvet Bean Seed Extract 100 mg
Increases dopamine, a neurotransmitter in the brain used for coordination, learning and moods*
Ginkgo Leaf Extract 60 mg
Increases cognitive function and decreases neuronal damage*
Huperzine A 50 mg
Protects against Dementia, Alzheimer's and improves mental function*
CDP Choline is naturally formed in the body from the nutrient choline. Its importance to the central nervous system is that it helps to form acetylcholine and phosphatidylcholine, two compounds in the body that are necessary for healthy memory function.*
Bacopa monnieri is an herb used since antiquity in the traditional Ayurvedic medical system of India for its cognitive enhancing effects. Extensive research has demonstrated that Bacopa helps promote a healthy memory, helps improve some measures of delayed recall, and may help improve occasional, age-related absentmindedness.*
Whether a college student, a busy individual or only concerned about mental health, these supplements offer everyone improved mental functioning which improves life. The herb Bacopa has been shown to speed up delayed recall, helping you remember things faster when you need them, and combat forgetfulness as you age. L-Tyrosine can be made in the body if it has plenty of phenylalanine, but when it comes to how quickly you can learn, memorize and stay alert while under stress, it's best not to leave this one up to diet alone.
We included velvet bean extract for its ability to increase dopamine levels. Dopamine increases physical coordination by speeding up the brain's reactions. It also facilitates learning and helps to balance out emotions such as depression, stress and anxiety. The Gingko leaf, while well known for stimulating the mind, also decreases inflammation of the brain. This along with Huperzine A, an alkaloid naturally derived from Chinese Club Moss, protects the brain from severe toxins and oxidative damage helping to prevent Dementia and Alzheimer's disease.
*These statements have not been evaluated by the Food & Drug Administration. This product is not intended to diagnose, treat, cure or prevent any disease.
If you are unsatisfied with your order for any reason, you may return the item for a full refund.  Contact us at info@terraorigin.com today for a free return shipping label.  The refund will be processed as soon as we receive the package. We accept returns within 30 business days of purchase date.
As of 11/2021 Free Shipping is offered in the 48 contiguous United States.  Orders to Alaska, Hawaii and Puerto Rico will be assessed a shipping fee.