Collagen + Protein Bone Broth (20-Serving Tub)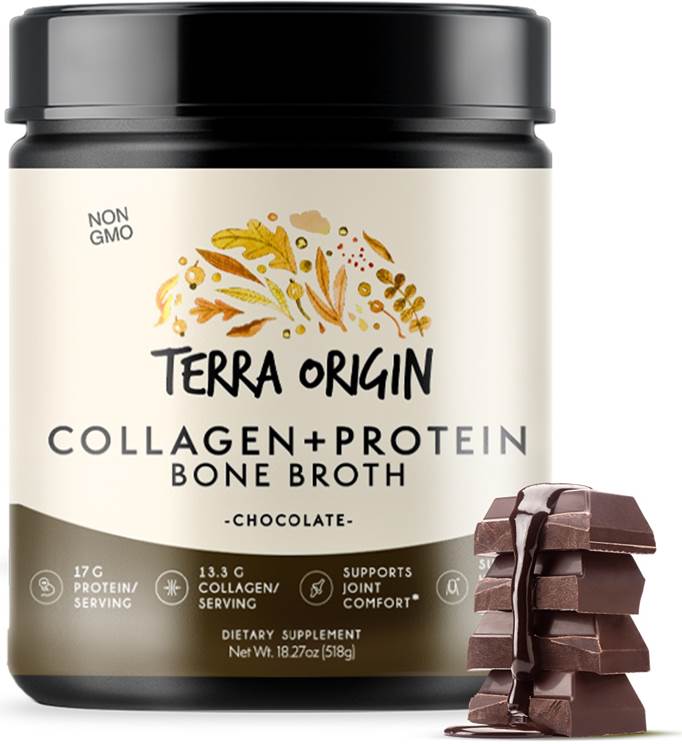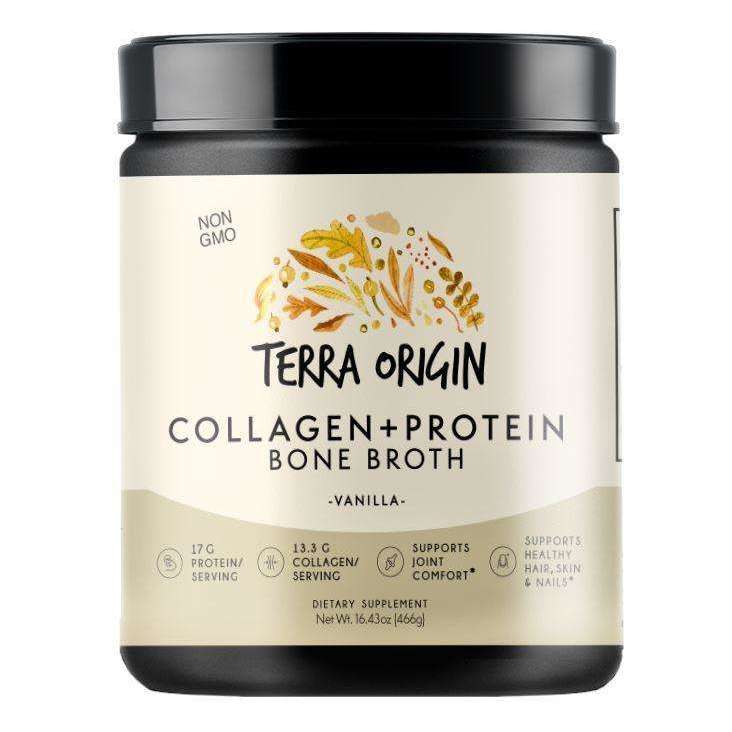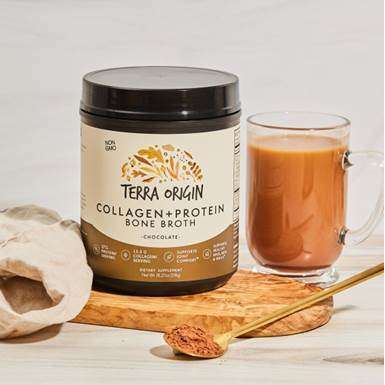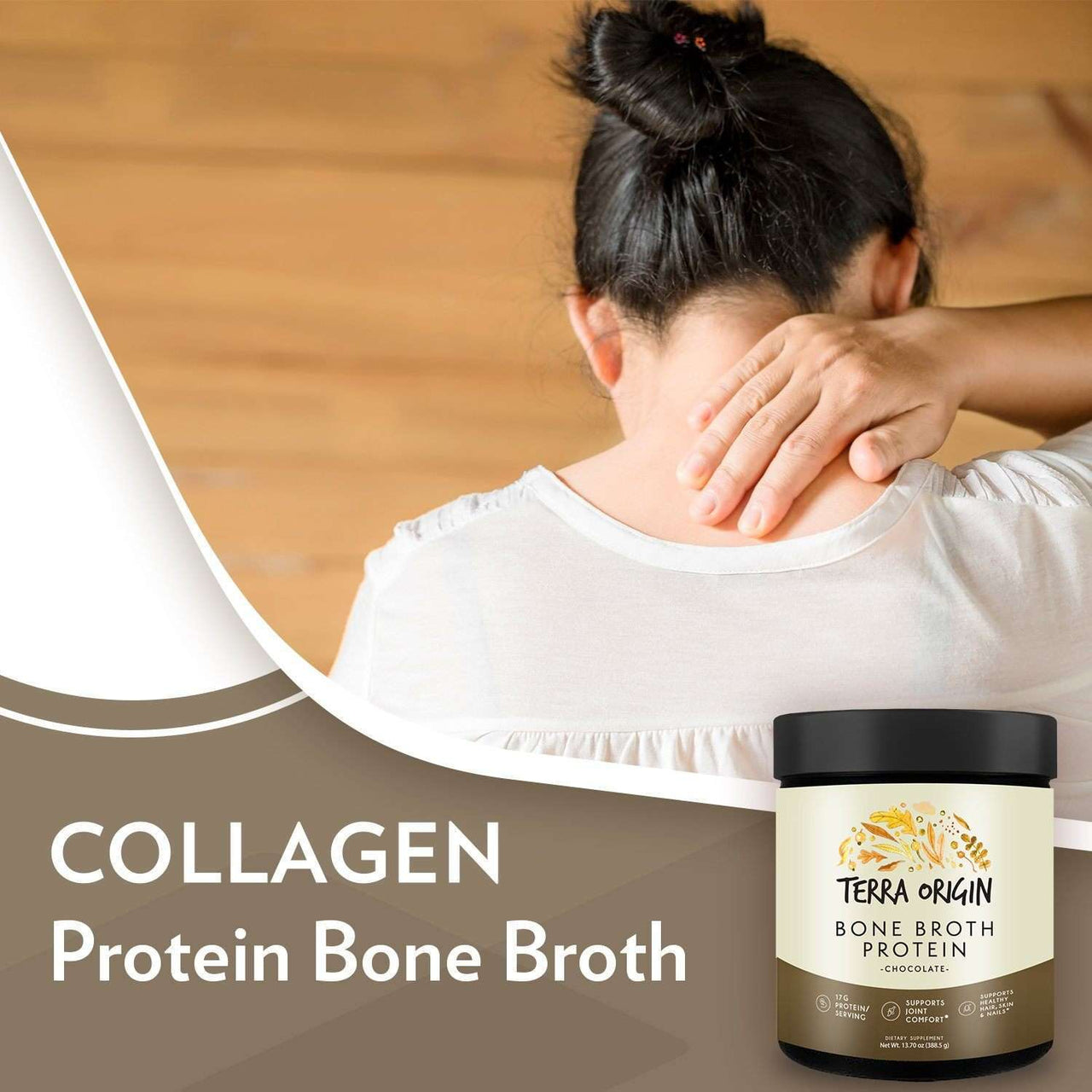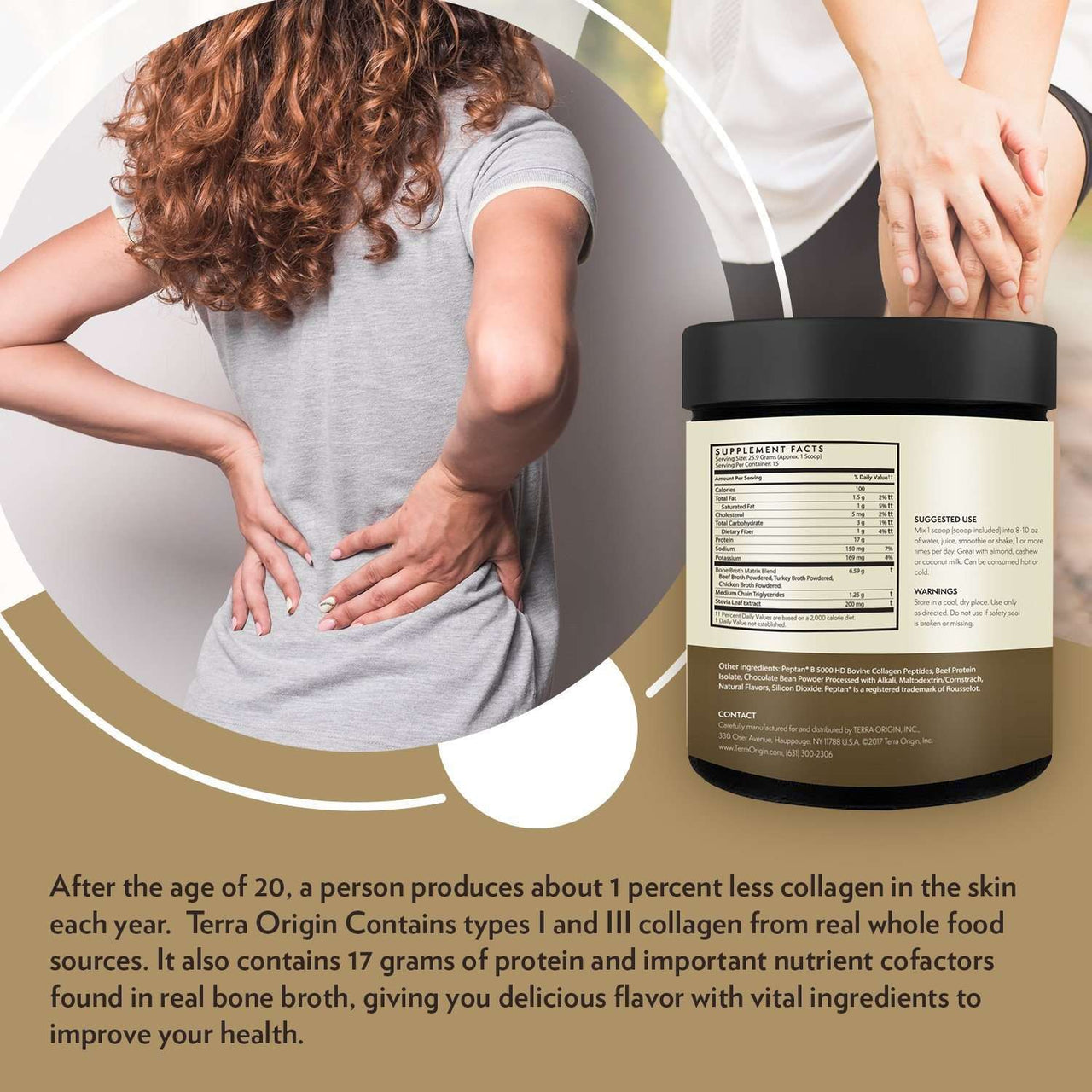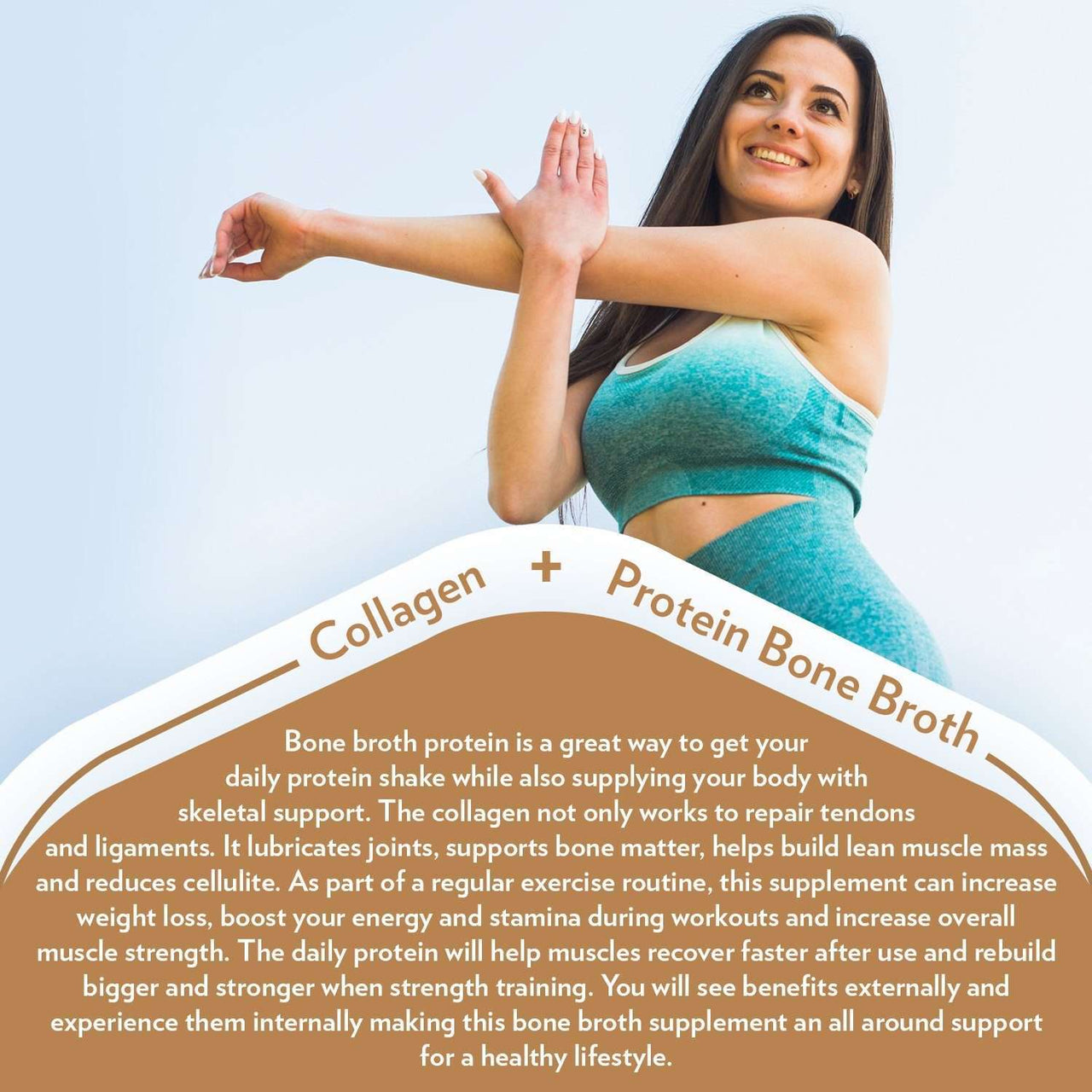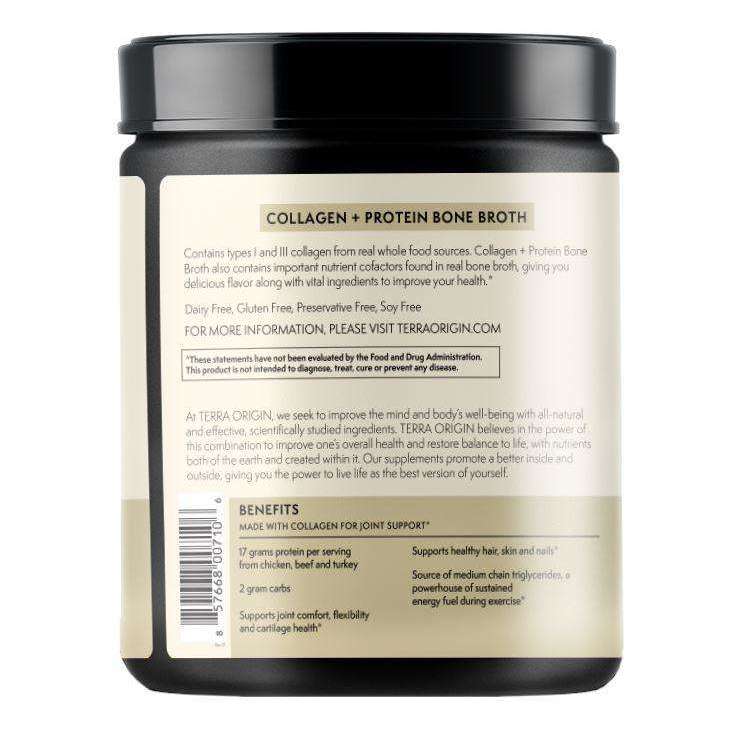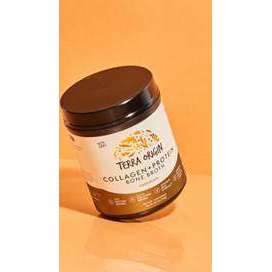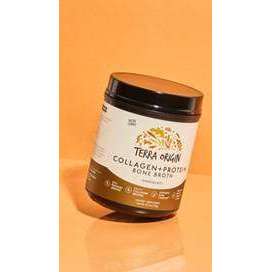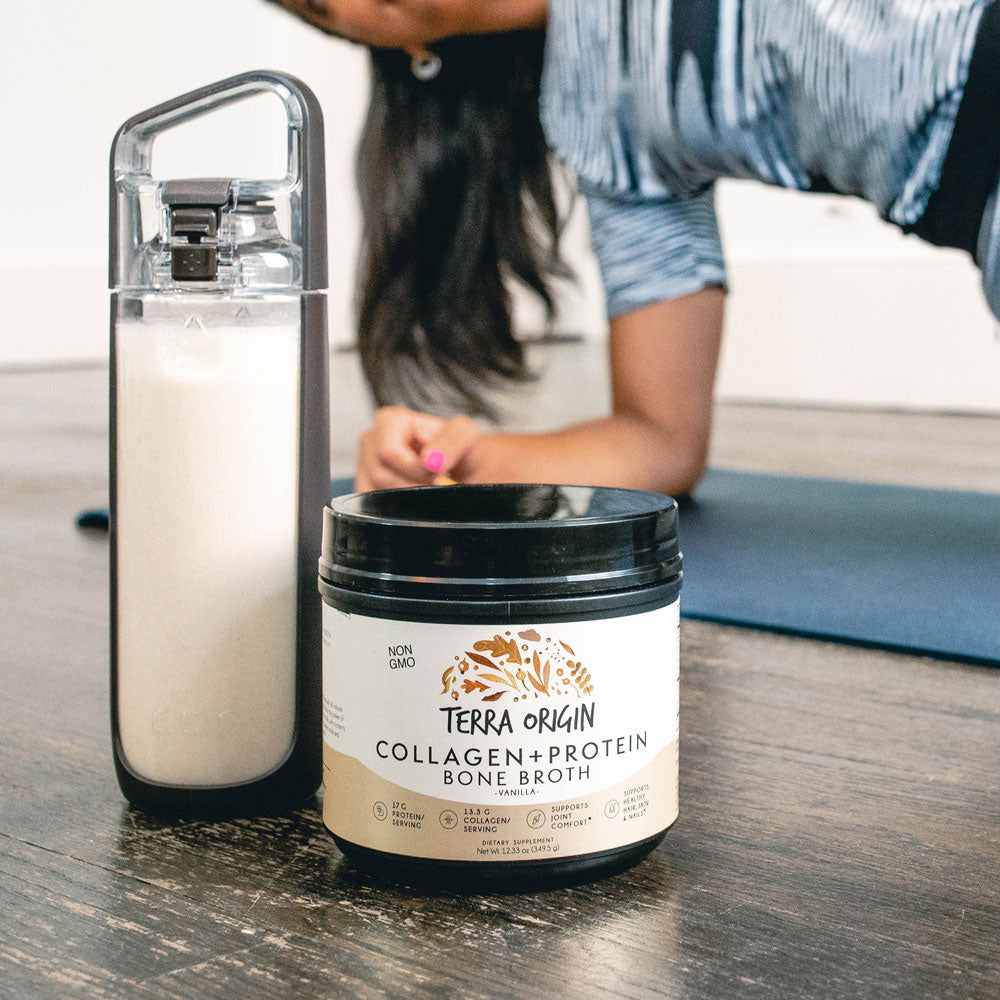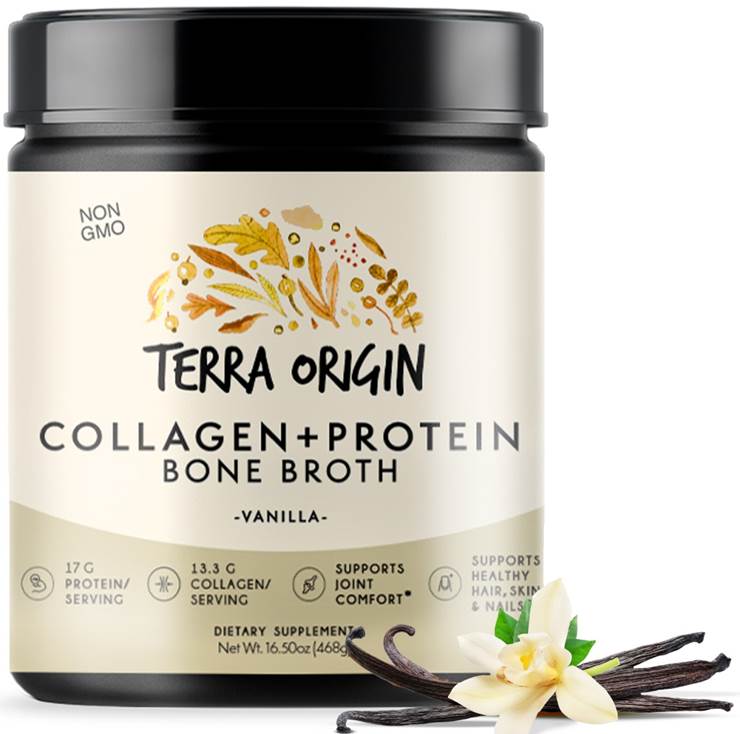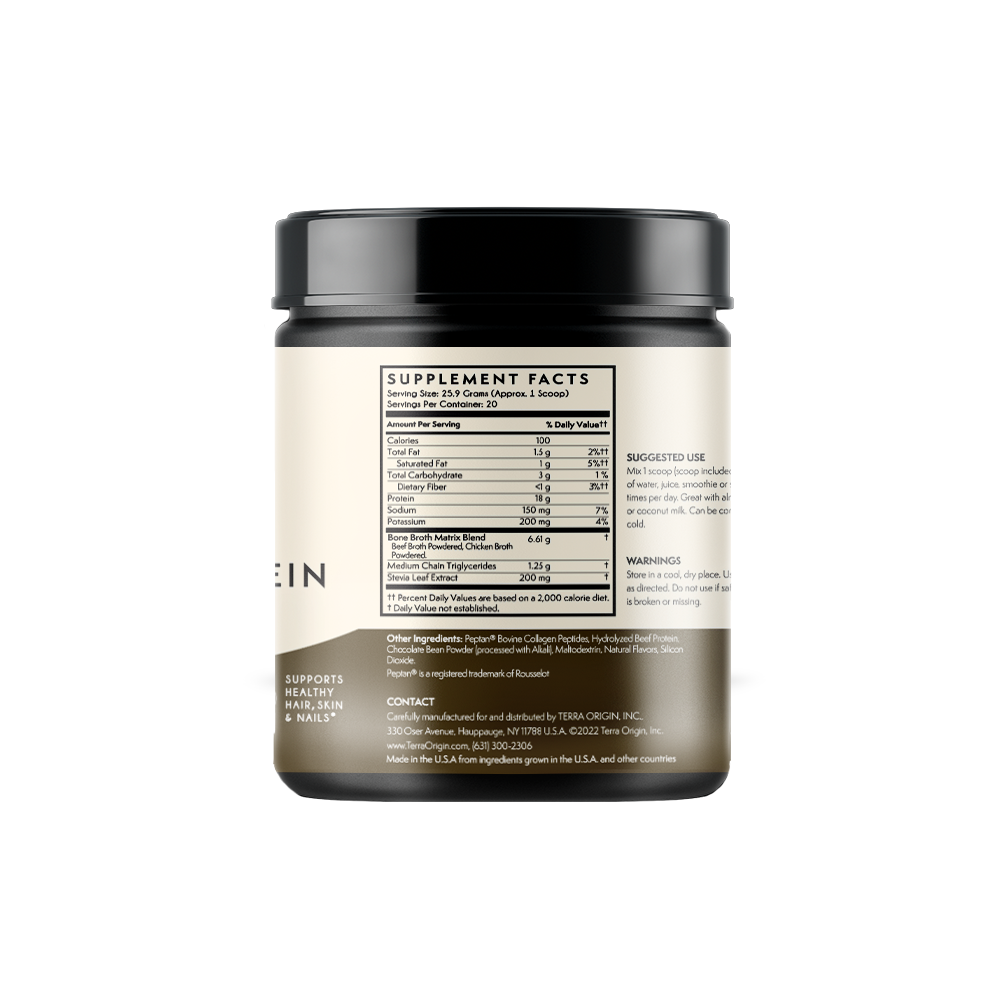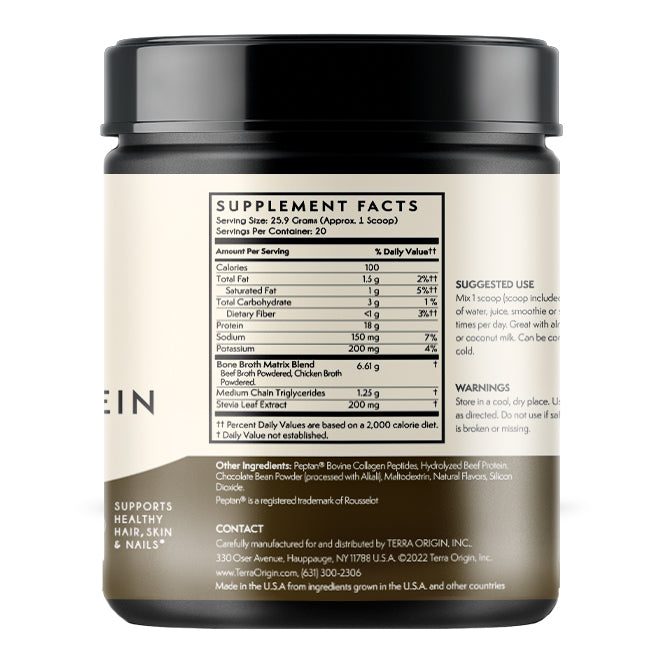 Description
Supplement Facts
More Details
Satisfaction Guarantee
Shipping
17g Protein per serving*
Supports joint comfort*
Supports healthy hair, skin and nails*
After the age of 20, a person produces about 1 percent less collagen in the skin each year.  Terra Origin Contains types I and III collagen from real whole food sources. It also contains 17 grams of protein and important nutrient cofactors found in real bone broth, giving you delicious flavor with vital ingredients to improve your health.
SUPPLEMENT FACTS
Serving Size: 25.9 Grams (Approx. 1 Scoop) Servings Per Container: 20
Amount Per Serving
%
Daily Value
Calories
100
Total Fat
1.5g
< 2%
Saturated Fat
1g
5%
Total Carbohydrate
3g
1%*
Dietary Fiber
< 1 g
3%*
Protein
18 g
Sodium
150mg
7%
Potassium
200mg
4%
Bone Broth Matrix Blend
6.61g
†
Beef Broth, Powdered, Chicken Broth, Powdered
Medium Chain Triglycerides
1.25 g
†
Stevia Leaf Extract
200 mg
†
* Percent Daily Values are based on a 2,000 calorie diet. † Daily Value not established.
Other Ingredients: Peptan® Bovine Collagen Peptides, Hydrolyzed Beef Protein, Chocolate Bean Powder (processed with Alkali), Maltodextrin, Natural Flavors, Silicon Dioxide.
Peptan® is a registered trademark of Rousselot.
Bone broth deserves its place among the healing superfoods flooding the market, but making it yourself is unbelievably time consuming! When you want ultimate joint and cartilage support, collagen levels restored in your hair, skin and nails and improved digestion, bone broth is the ideal supplement. We have created a powder that harnesses all of the qualities of freshly made bone broth without taking all your time.
18 grams of protein per serving
Supports daily recommended protein of .8 – 2.2 grams per kilogram of body weight depending on lifestyle*
Medium Chain Triglycerides 1.5 g
Increases endurance and performance, improves muscle strength and function and aids in weight loss*
Bovine Collagen Hydrolysate
Protects and repairs joint cartilage, bone matter, tendons and ligaments, builds muscle, burns fat and strengthens the lining of the digestive tract reducing permeability*
If you suffer from IBS, leaky gut syndrome or have food allergies and sensitivities, taking this supplement daily can dramatically improve and completely heal certain digestive ailments. It can restore the gut lining decreasing permeability, support the growth of healthy bacteria in the digestive tract and provides numerous trace minerals and amino acids along with high doses of collagen and gelatin in an easy to digest form that soothes the GI tract.
Bone broth protein is a great way to get your daily protein shake while also supplying your body with skeletal support. The collagen not only works to repair tendons and ligaments. It lubricates joints, supports bone matter, helps build lean muscle mass and reduces cellulite. As part of a regular exercise routine, this supplement can increase weight loss, boost your energy and stamina during workouts and increase overall muscle strength. The daily protein will help muscles recover faster after use and rebuild bigger and stronger when strength training. You will see benefits externally and experience them internally making this bone broth supplement an all around support for a healthy lifestyle.
*These statements have not been evaluated by the Food & Drug Administration. This product is not intended to diagnose, treat, cure or prevent any disease.
If you are unsatisfied with your order for any reason, you may return the item for a full refund.  Contact us at info@terraorigin.com today for a free return shipping label.  The refund will be processed as soon as we receive the package. We accept returns within 30 business days of purchase date.
As of 11/2021 Free Shipping is offered in the 48 contiguous United States.  Orders to Alaska, Hawaii and Puerto Rico will be assessed a shipping fee.